Custom Shirts No Minimums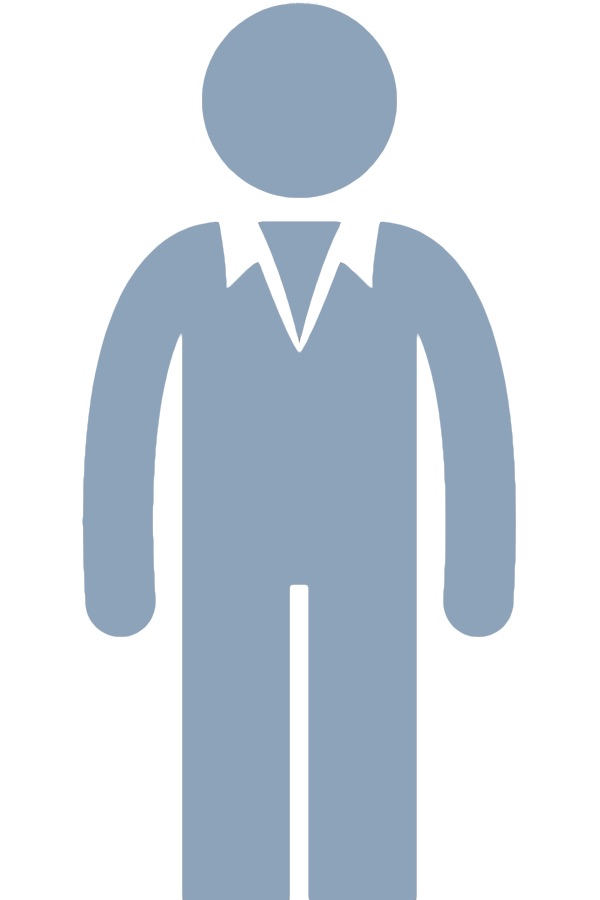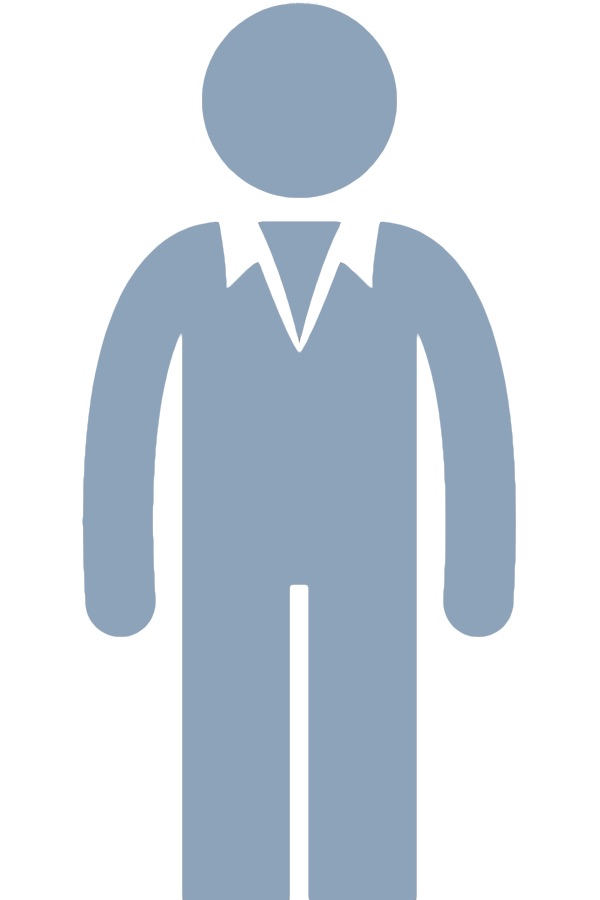 WHITE
Did you know that a custom shirt gets seen by 3,400 hundred people during its lifetime? Corporate Casuals offers a massive selection of custom shirts, including polos, button-down shirts, pullovers, long-sleeve tees, tank tops, and crew neck sweatshirts for men, women, and youth. We partner with premium brands like Nike, Under Armour, and Adidas so your logo gets seen alongside name brands we all know and love.
Top Decorating Methods for Custom Shirts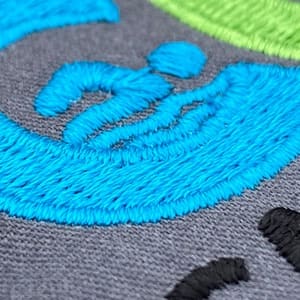 We use industrial-grade embroidery machines to stitch your logo using colorfast, durable rayon threads that look great and last through lots of washes and wears. Embroidery typically results in a more professional, clean look than screen printing. A stitched logo is a great way to customize uniform apparel to present your company in the best possible light. The cost of embroidery depends on how many colors and stitches there are in your logo. We don't recommend embroidery for shirts with thin fabrics like t-shirts and some high-performance polyester tees.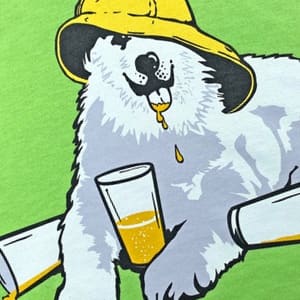 Screen printing involves applying layers of ink to your shirt with a mesh screen for every color in the design. We recommend uploading your artwork and choosing screen printing for t-shirts, especially when you want a detailed design that has gradients and shading. If you need t-shirts for a youth baseball team, lightweight uniform tees, a summer corporate barbecue or for a warm-weather resort gift shop, screen printing is a great choice for your shirt order. For thicker shirt fabrics and when you want a more polished look, embroidery is a better option. A printed design on custom shors sleeve t-shirts or tank tops lasts through many washes and wears.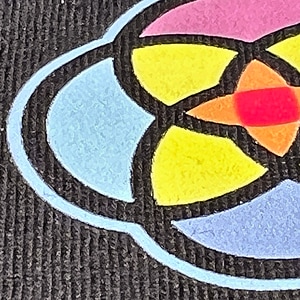 Custom heat transfers for t-shirts are a great choice. They're economical, and you can get a sharp, full-color design on the front, back or left chest of your shirt. Also known as a digital transfer, we digitally print your logo or design onto transfer paper. Then, we transfer the ink from the paper to your t-shirt fabric using thermal pressure. Great for getting one custom t-shirt or hundreds, a heat transfer is a cost-effective, durable option when you order your shirts online. We don't recommend heat transfers for polos or woven shirts because of the fabric texture.
Lots Of Custom Logo Locations
You've got lots of locations where we can embroider, screen print or heat press your logo, graphic or message on your personalized t-shirt. The left chest is the default spot, but if you want a different placement, you can specify that in the notes section for us when you check out. Upload your own artwork in our design studio, and we'll take care of the rest!
On a polo or woven shirt, we can place your logo on the left chest. If there's a pocket or a brand-name logo on the left chest, we'll embroider your logo on the right chest. But wait: We can embroider your logo on the left chest and a person's name on the right chest. For added branding, we can put a logo on the left or right sleeve, or on the back yoke, right below the collar.
For t-shirts and pullovers, we can screen print or heat transfer a full-front or full-back design (or both). We can also decorate the sleeves. Creating your custom shirt is easy and fun in our design studio.
Your Ideal Custom Shirt Logo Size
A general rule of thumb is to keep your custom shirt logo less than 4 inches wide by 3 inches tall. The best size for embroidered text lettering is 1/4 inch (6.3mm) or taller. We recommend a block font that doesn't contain any fine details less than 1/16 inch (1.5mm) wide.
If your goal is for your custom shirt logo to have maximum visibility to potential customers, select thread colors that contrast strongly with the color of the custom shirts you've chosen. However, since embroidery is such a unique decorating method, even non-contrasting logos look great.
If you prefer a more subdued look, opt for a tone-on-tone custom design where your logo color and shirt shade differ by about one shade. We can even do a color-on-color design where we match your logo color to the exact shade of your custom garment. Since we use 3-D rayon threads that reflect light in a unique way, viewers will still be able to easily recognize your logo, which will have a more upscale engraved look on whatever shirt style you choose.
5 Ways Custom Shirts Work Hard for Your Brand
1. 'Wearable,' Mobile Advertising
Most people own at least one t-shirt, and wear it at least once a week. A tried-and-true (and just plain cool) wardrobe staple, a high-quality, nicely decorated t-shirt (or polo or woven) gets worn over and over. In fact, people keep an imprinted shirt an average of 14 months, racking up to 3,400 impressions over its lifetime.
2. Special Events
If you're holding a corporate event or a fundraiser, a custom long-sleeve or performance shirt is a great item to use as part of the entry fee swag bag, sold at the event, or used as a raffle prize or trade show booth giveaway at the event. Plus, a t-shirt is a tangible reminder of a great experience, and your recipient will wear the t-shirt in the future with great feelings toward your brand. A custom polo or woven is also a great uniform piece, so if your team is representing at a trade show they'll show up as a professional, unified brand.
3. Team or Company Spirit
With so many more people working at home at least part-time, employee morale kits (including t-shirts) have been a big hit with people, since they promote team unity and spirit. You can also give t-shirts to new employees. That way, your staff can wear their matching custom embroidered t-shirts at meetings or events, within your company and outside your organization so they can represent your business like a unified team. Logoed polos or wovens you've created in our design studio are the perfect business casual wear for in the office, on Zoom meetings, or out and about.
4. Pitching to Prospects
If you want to really woo prospective customers and start a fruitful long-term relationship with them, give branded shirts (either with your logo or theirs) to show you care. This tangible reminder of your company and gift will stay with them every time they reach for your shirt, setting you apart.
5. Reactivate Inactive Customers
If some of your customers haven't bought from you in a while, send them a branded shirt, along with your newest offer, coupons or a catalog to get them excited about working with you again. You may even lure them back from a competitor! Save your design in our design studio and create a great looking custom t-shirt, its easy, fast and fun.
Your Frequently Asked Questions, Answered
Question #1: I only have a small image of my logo. Will that work?
All you need to do is upload your shirt design into our design studio, and we'll take it from there. (Or, you can upload your business or team logo and artwork and we turn it into a stitched logo for a small setup fee.) Our embroidery specialists have converted more than 100,000 corporate logos into stitch-ready files, so your custom polo shirt or button-down will be an excellent representation of your organization. If you have any preferences on the logo size, colors or location on your custom embroidered shirt style, just add them in the notes section when you check out.
Question #2: So you need to "convert" my logo into an embroidery file first?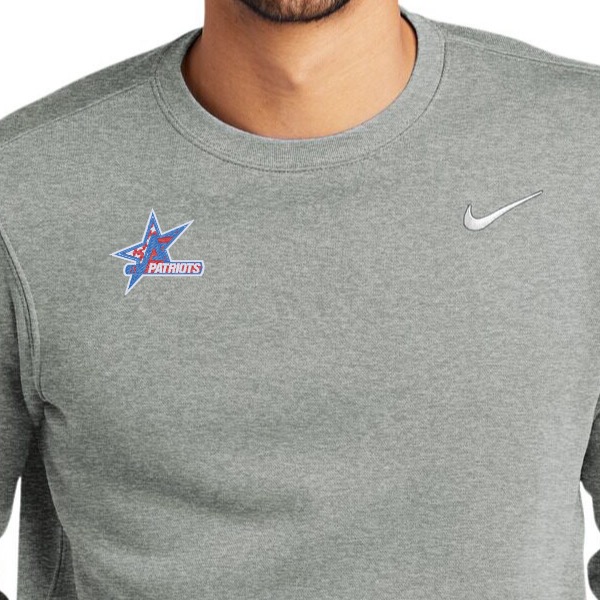 CRISP, PERFECT STITCHES
When you upload an image or logo in our design studio for us to embroider on your custom shirt, we convert it to an embroidery-machine-friendly file so we can stitch it out. (This conversion process is called digitizing.) For best possible results, we digitize your custom logo or artwork by hand. The talented embroidery artists on our design team use the most up-to-date digitizing software to develop stitch files that results in the crispest, best-looking embroidery for your custom shirt order. You'll can approve your logo before we start stitching your custom polos or long-sleeve shirts!
Question #3: Is my one-time setup fee really only paid one time?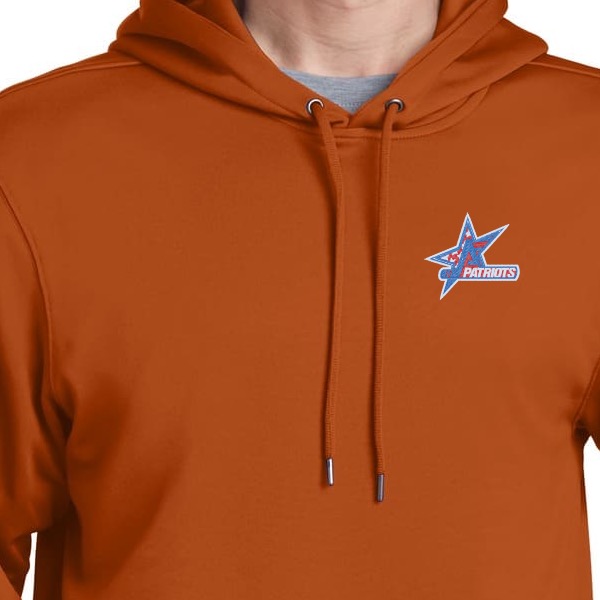 CHOOSE FROM 230 THREAD COLORS
Yes! It costs $35. You'll see this one-time fee added to your shopping cart. Any future orders you place using this logo won't be charged a setup fee. The stitch file is yours, and you can download it anytime. Some shops require a "tape charge" (usually $10-$20) if you want a copy of your stitch file. This policy is very common on websites that give you "free setup," so was it really free?
Question #4: Do you have brand-name custom shirts?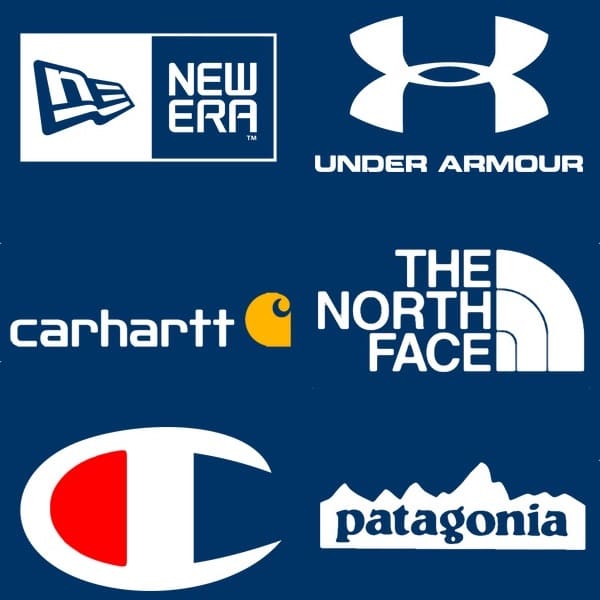 NAME BRANDS GALORE
We've partnered with a long list of coveted brands so you can score a custom name-brand shirt at wholesale, and place your logo or message right alongside these in-demand logos when you order custom shirts. You'll find shirts from adidas, Carhartt, Charles River, Columbia, Eddie Bauer, Marmot, OGIO, New Era and Under Armour. Trust us, you won't be disappointed by this curated selection when you start creating your customized t-shirt order.