Customize Your Favorite North Face Apparel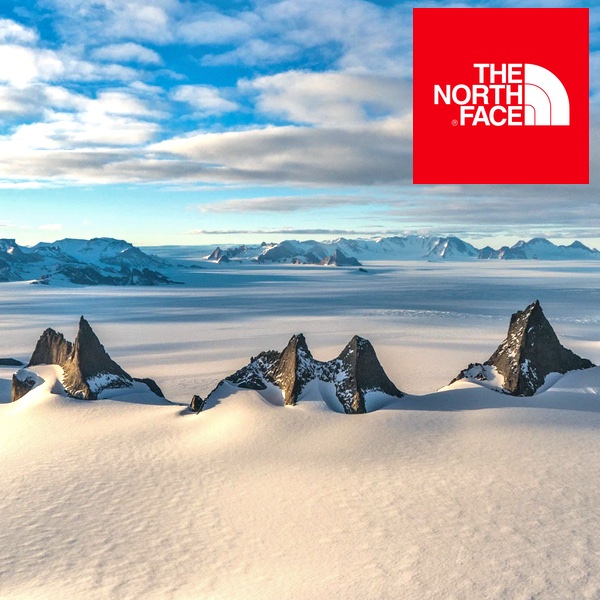 The North Face has been supplying high-quality, high-performance gear for athletes and explorers since 1966. This iconic brand is loved by everyone, from polar explorers to extreme mountain climbers, to celebrities, teenagers and dads. When you outfit your employees in
custom North Face vests
or give your top clients
North Face jackets
or
backpacks
, people will see your logo alongside one of the most recognizable outerwear brands in the world. Whether you need one custom North Face jacket or vest, or hundreds, we've got you covered, since we've been stitching custom brand-name apparel since 1980.
Our Top-Selling North Face Styles
Corporate Casuals stocks a wide variety of in-demand The North Face products, including full- and quarter-zip fleece jackets, hoodies, soft-shell jackets, all-weather jackets, tech jackets, travel anoraks, vests, backpacks and hats. Each of these popular items has The North Face logo on it in one or more locations, adding to the appeal when you make it part of a uniform, a gift or branded merchandise with your logo on it for sale.
For nearly 50 years, The North Face has been well-known for its innovative product design and consistent introduction of new apparel and gear. Back in 1975, the company set a new standard in the outdoor equipment industry with its geodesic dome tent, which became the ideal for lightweight, high-performance tents used in high-altitude and polar explorations. That same year, the brand also introduced sleeping bags with shingled synthetic insulation, which are also now considered the industry gold standard.
The Epic North Face Journey
Wondering why this iconic brand is called The North Face? The company says it's named for the "coldest, most unforgiving side of a mountain," and is proud to have helped explorers reach previously unreachable areas of the Himalayas.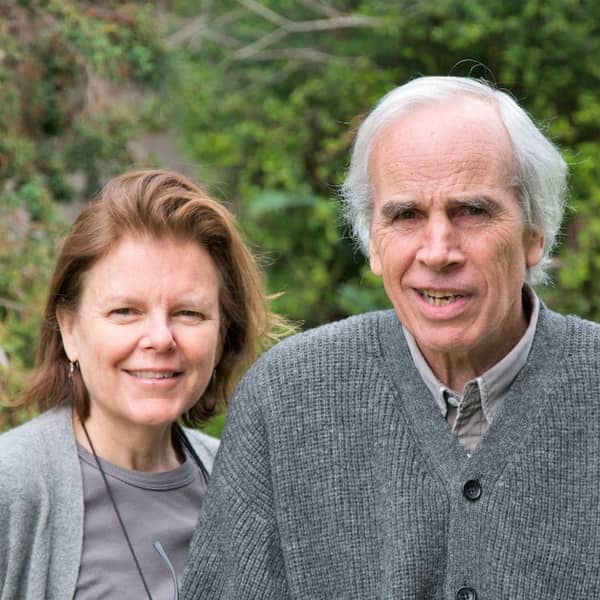 Doug and Susie Tomkins founded The North Face in 1964 (a few years before launching Esprit) with only $5,000. They opened their first store in 1966, offering good-quality rock climbing and camping equipment. They sold the stores for $50,000 in 1966 to Kenneth 'Hap' Klopp.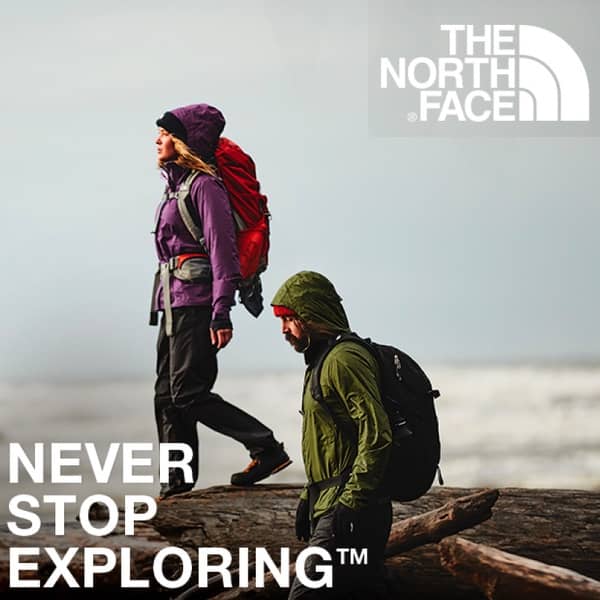 In the late 1960s, the brand enjoyed an avid following of outdoor athletes and enthusiasts, and started sponsoring expeditions to far-flung corners of the world. This launched The North Face mantra: "Never Stop Exploring." In the 1980s, the company began supporting extreme skiers, and became the only American supplier to offer a complete line of high-performance outerwear, ski wear, sleeping bags, packs and tents.
Also in the '80s, The North Face debuted some of its most popular products, including the Mountain Gore-Tex jacket and the Mountain Light jacket. Due to its focus on extreme outdoor journeys, the company was tasked with designing exclusive polar clothing and equipment for the Trans-Antarctica Expedition. In 1990, the team of six people traveled 3,700 miles in 220 to raise awareness about climate change. They completed the first non-mechanical crossing of Antarctica. Today, those Gore-Tex pieces are among the brand's most collectible pieces, and are credited with influencing The North Face's collaboration with Supreme.
The North Face Achieves Cult Status
Back in the 1990s, The North Face Nuptse jacket hit major cult status after rappers LL Cool J and Method Man and actresses Jennifer Aniston and Halle Berry sported theirs. Today, people still search out genuine 1996 versions of the coat. (In fact, Lyst has reported that in 2020, the Nuptse was the most popular product among men and women.) There's just something about The North Face brand and styles that appeal to people in a timeless way.
For a brand that started up by offering extreme performance wear and gear for explorers scaling previously unreachable Himalayan peaks, its fans have expanded far beyond professional climbers, outdoor explorers and extreme athletes. Fans include grandmothers, dads and teenagers on TikTok, and they make the brand theirs. Our customers love that we can customize their North Face clothing for them as well, with high-quality embroidered logos, artwork, messages and name drops.
Now, The North Face is back in the news and pop culture with gorpcore (a luxury collaboration with Gucci), which blends fashion and functionality. Much Instagrammed, this jacket is gender-neutral and ageless. Before that, The North Face popped with its MM6 Margiela partnership. In late 2021, The North Face partnered with INVINCIBLE, a Taiwanese streetwear boutique, and Japanese stylist Akio Hasegawa to launch the brand's classic jackets with bright space-age prints.
While celebrities have been wearing The North Face for years, the latest resurgence in the 2020 is fueling even more interest in new and vintage styles. Celebrities like Bella Hadid and Hailey Bieber both wore the now-sold-out MM6 Maison Margiela x The North Face Circle Denali Top vest. Emily Ratajkowski, Kendall Jenner, Gigi Hadid, Dakota Johnson and Rita Ora have worn the brand out and about.
Though The North Face brand is about exploring the outdoors and safeguarding the planet, it's also an accessible lifestyle brand that appeals to almost every demographic, who can make the styles their own.
Visible Brand-Name Logos
Part of the appeal of custom North Face apparel and gear is the branding. You'll find North Face logos in various high-visibility spots on our garments, like:
High-density The North Face logo heat transfer on the left chest Embroidered The North Face logos at left bicep and right back shoulder Contrast embroidered The North Face logo on the left chest and right back shoulder.
No matter which custom embroidered North Face apparel or gear you pick, your logo will sit alongside one of the most iconic brand logos around.
A Variety of Sizes, Styles & Fabrications Our custom North Face tech and soft-shell jackets, full- and ¼-zip fleeces, travel anoraks, hoodies and vests come in a variety of styles and sizes, to offer just the right look, protective coverage, pockets, length and fit, depending on the wearer's activity and outdoor environment. You'll enjoy performance-enhanced fabrications from technical stretch fleece, to smooth soft-shell and quilted fabrics treated with a water-repellent finish.
Our North Face styles also fit and flatter all ages and body types to give everyone the flexibility of movement and comfort they need to spend time outdoors, on the job site or living their best life. The superior North Face innovative design approach enhances performance and function in every single garment. You'll look great no matter whether you're heading out on the trail or hitting the pavement downtown.
Performance Features
The North Face has developed superior patented and trademarked fabrications and insulation that you'll find in our wide selection of North Face outerwear and vests. Here are a couple you'll enjoy:
ThermoBall insulation

The North Face turned up the heat on its synthetic insulation technology. This isn't your traditional, continuous-filament filler. ThermoBall's small, round fiber clusters mimic down clusters by trapping heat within tiny air pockets to keep you warm.

DryVent

These fabrics are engineered to be fully waterproof, windproof and breathable. The outer face of the textile is treated with a durable water-repellent finish that helps form droplets and repel water from the surface. Each multi-layered textile is engineered to allow water vapor to pass through from the inside to the outside. These fabrics are produced in various weights, textures and performance characteristics so a wearer can choose the garment that best suits their activity and outdoor environment.
Here's How The North Face Helps Save the Earth
Ever heard of The North Face's Explore Fund? Nearly a decade ago, the company started the program as a way to support the next generation of explorers. Since its inception, The North Face has awarded more than 500 grants and millions of dollars to nonprofit organizations across the country. Recently, the company added a women-focused $250,000 Moving Mountains grant in honor of North Face leader Ann Krcik, to inspire and support the next generation of women explorers.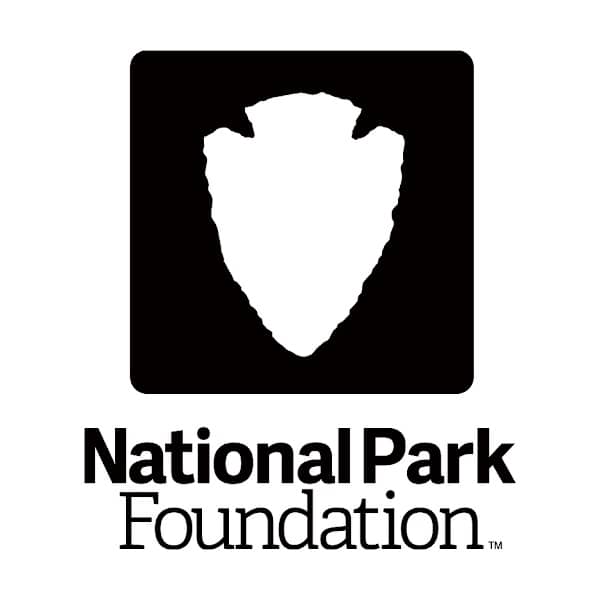 The brand has also partnered with The National Park Foundation, the official charity of U.S. national parks and a nonprofit partner to the National Park Service, to support park and federally managed parks and lands programs. The ultimate goal? To inspire people from all walks of life to go out into the great outdoors and explore.
The North Face has also committed to using 100% recycled, regenerative or responsibly sourced fabrics for apparel by 2025, and all footwear and equipment by 2030. The brand also plans to eliminate single-use plastic packaging by 2025, and in the meantime, reduce or create recyclable remaining product packaging.
Notably, The North Face is also working to develop circular systems to recycle previously owned products and reuse the raw materials. The first products designed for circularity launch in 2022. In the meantime the company's Limited Lifetime Warranty program, Renewed Collection and Clothes the Loop program combat waste and extend the life of its products.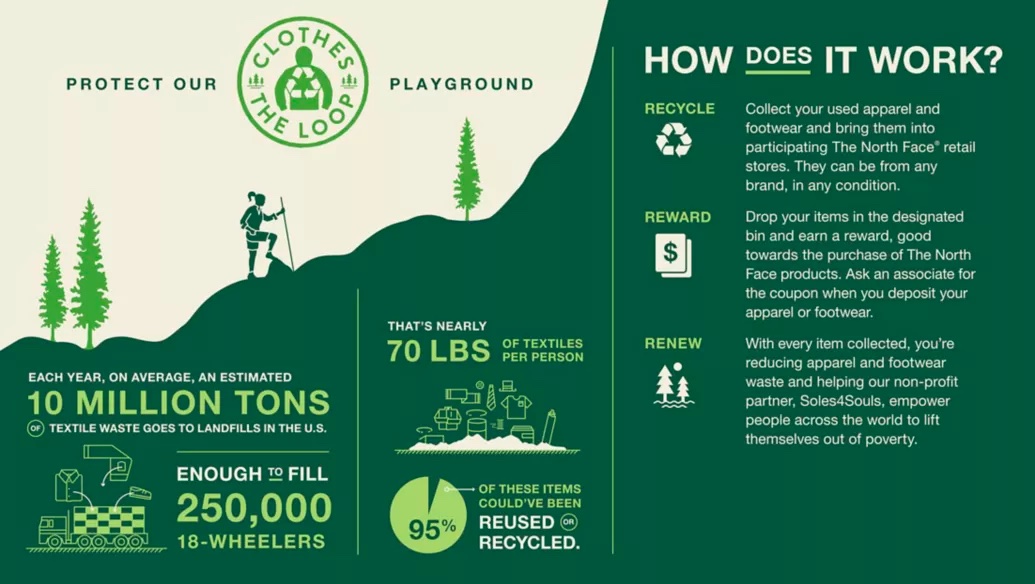 Your Most Burning Questions About Custom The North Face Apparel, Answered
Now that you've selected the right custom North Face style for your employees or gift recipients, you probably have questions about how we get your logo or message onto these in-demand brand name pieces as eye-catching embroidery. Here are the top things our customer service reps hear about how we stitch your logo on your custom The North Face gear.
Q. I've never bought The North Face gear before. I only have a small image of my logo. Will that work?
Yes! It's so easy you'll want to do it again and again! All you need to do is upload it into our Design Center, and we'll take it from there. Our embroidery specialists have converted more than 100,000 corporate logos into stitch-ready files, so you can be confident that your custom North Face jacket, vest or other item will be an excellent representation of your brand. If you have any preferences on the logo size, colors or location on your embroidered North Face item, just add them in the notes sections.
Q. So you need to "convert" my logo into an embroidery file first before you embroider it on my custom North Face apparel or backpack. What exactly does that mean?
When you upload an image or logo for us to embroider on your brand-name item, we convert it to an embroidery-machine-friendly file so we can stitch it out on our machine. (This conversion process is also called digitizing.) For the best possible results, we digitize your custom logo or artwork by hand. The talented embroidery artists on our Corporate Casuals design team use the most up-to-date digitizing software to develop a stitch file that will result in the crispest, best-looking embroidery. Even when you run artwork through the software's auto-digitizing function, you still won't achieve the same level of quality that our artists do.
Q. How do I choose the right thread colors for my logo or message?
Extra points for a great question! The thread colors you choose for your logo or message is one of the most important decisions you'll make during your ordering process. However, we recommend no more than six to nine colors for an embroidered logo or artwork.
Most likely, you're working with specific colors your company has selected to represent your brand. If that's the case, you'll generally have access to your brand's Pantone Matching System (PMS) colors. We can easily match our embroidery thread colors to your brand's exact PMS colors at no charge, so your logo on your custom embroidered aprons are 100% on brand. Our online proofing system gives you access to over 230 industry-standard thread colors by Madeira.
If your goal is for your logo to have maximum visibility to potential customers, then we recommend selecting thread colors that contrast strongly with the color of the custom North Face garment or bag you've chosen. However, since embroidery is such a unique decorating method, even non-contrasting logos can still look great.
If you prefer a more subdued look, you can opt for a tone-on-tone design where your jacket, vest or bag differs by about one shade. We can even do a color-on-color design where we match your logo color to the exact shade of your custom item. Since we use 3-D threads that reflect light in a unique way, viewers will still be able to easily recognize your logo, which will have a more upscale engraved look.
Q. What's the best size for my embroidered logo and text?
A general rule of thumb is to keep your logo less than 4 inches wide by 3 inches tall. Since aprons have a lot of space, you can go a bit larger if you like. Remember, larger logos or artwork may cost more if they require more stitches.
The best size for embroidered text lettering is 1/4 inch (6.3mm) or taller. We recommend a block font that doesn't contain any fine details less than 1/16 inch (1.5mm) wide.
Q. I don't want my logo on my custom North Face item. I might just want some block text embroidered on it. Is that possible?
Yes, absolutely. Simply visit our online Design Studio and create artwork using text only. You can choose from different block fonts, along with other fancy and script fonts. There's no setup fee or conversion process required for any embroidered logos that you create in our Design Studio.
Q. Can I order a personalized North Face with a name and title?
Yes, you can add a name and/or title for a small fee to each item. We offer free setup for all personalization. We recommend no more than two lines of text containing 20 letters per line for the best embroidered look. If you need something different, one of our knowledgeable Corporate Casuals reps can work with you!
Personalized North Face Apparel & Accessories Stitched by Experts
At Corporate Casuals, we've been stitching brand-name embroidered apparel for over 35 years with thousands of satisfied customers. Our production facility in Concord, Massachusetts, has the best industrial embroidery machines around and operators with decades of experience. The bottom line? Your North Face items will look great!