Customize Your Scrubs and Lab Coats
Medical scrubs and embroidered lab coats have been the standard for decades in the healthcare industry. Scrub tops and lab coats are colorful, comfortable and very functional healthcare uniforms for both men and women.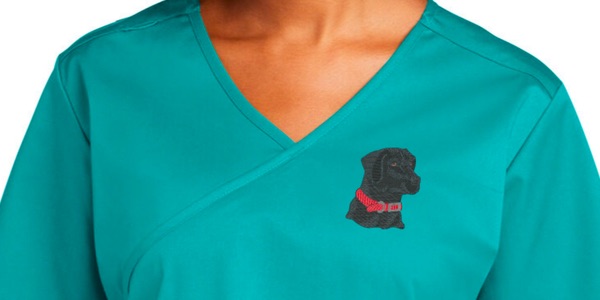 For over 35 years, Corporate Casuals has provided embroidery services on scrubs and lab coats for healthcare and personal care services. We offer an unmatched selection of high-quality scrub tops, custom scrub jackets, scrub pants or custom lab coats for men and women in a variety of styles, sizes, neutral and bright colors, and fabrics.
Scrub Shirts
Our scrub tops are anything but basic, with short- and long-sleeve styles, V-neck and scoop neck options, and even mock wrap tops and full-zip options. You can always change up your look, while still staying professional. Our zip-front option can be worn, open or closed, so it always matches your vibe.
Scrub Pants
We carry men's, women's, and unisex scrub pants in a variety of popular styles. Our scrub jogger pants are super-comfortable, with a drawstring waist, cuffed legs and extra pockets—plus, they're stylish with a streetwear vibe. Our cargo pants in men's, women's and unisex styles are a favorite among healthcare professionals who love their storage for their pens, pads and other medical instruments.
For example, our men's scrub cargo pants have front slash pockets, cargo pockets (with an interior pocket) and a single back pocket. These styles also have comfort drawstring waistbands. Finally, our unique flare scrub pants style is designed with a moderate flare leg with side vents for style and movement.
Scrub Jackets and Lab Coats
Our scrub jackets and lab coats are both fashionable and functional, so healthcare pros can layer up in style. They add interest to an embroidered scrub top-and-pant ensemble and provide extra pockets. Our scrub jackets include snap-front and zippered options. Our personalized lab coats are functional, with lots of pockets, and are a protective layer for the scrubs underneath.
Important Features of Scrubs
Scrubs should be comfortable, functional and ergonomic (meaning that you can quickly find what you need, like a pen or other tools that you keep in pockets or loops). If you want to find your way around a custom scrub, here are some important features you'll want.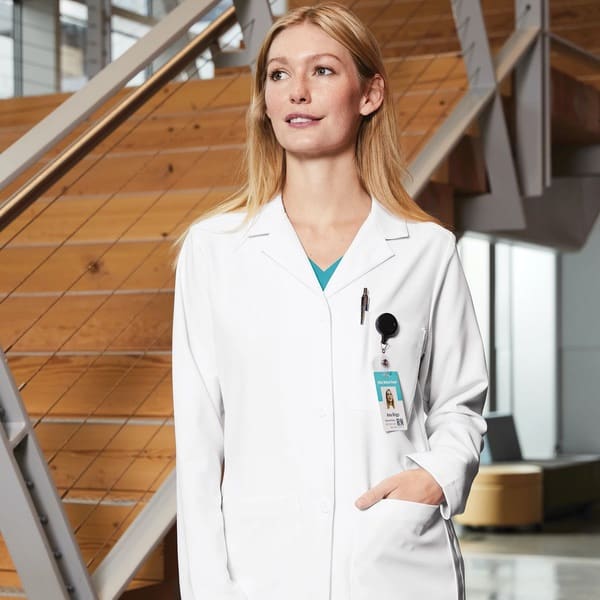 Pockets
The number of pockets and placement on your scrub jacket, scrub top and scrub pants can make or break their functionality. Our custom scrub tops feature top-loading front pockets with hidden interior accessory loops.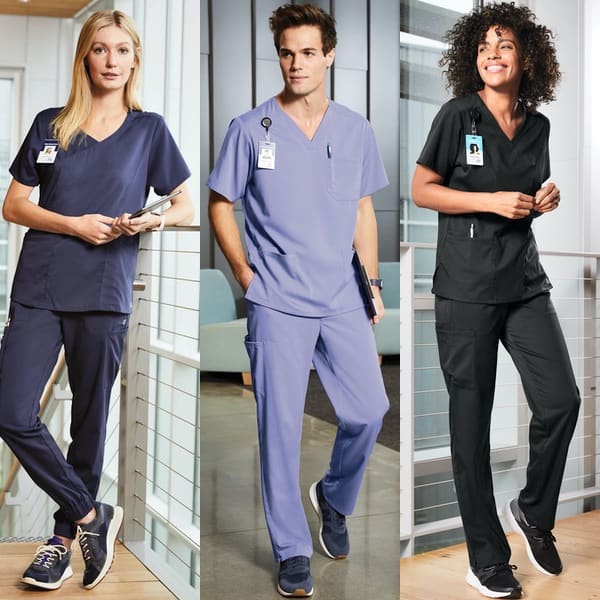 Collars and Neckline
We carry scrub top styles in V-necks and scoop collared necklines. This comes down to your personal preference as to which style you prefer and flatters you best.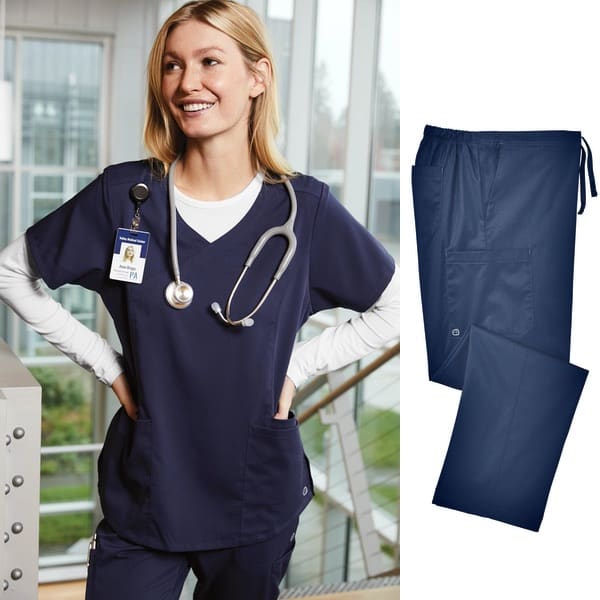 Comfort Waistline
You'll want your custom scrub pants to move with you, so we offer comfort elastic waistbands with adjustable drawstrings so you can adjust your pants as needed throughout your shift.
Embroidered Scrubs and Lab Coats as Unique as Your Healthcare Brand
At Corporate Casuals, we're big believers in one-size-doesn't-fit-all, so we offer an unmatched selection of custom embroidered scrubs or personalized lab coats, so you can find exactly what you need. Once you choose a style you love, you can easily design a custom healthcare uniform piece in our online Design Studio. Or, you can upload your business or team logo and we can turn it into a stitched logo for a small setup fee.
Our experts hand-picked these custom scrubs and lab coat styles for their functionality, retail appeal and the fact that they embroider well. That means your employees will feel great and represent your brand superbly at every opportunity, getting you thousands of positive brand impressions throughout the year.
A Short History of Scrubs and Lab Coats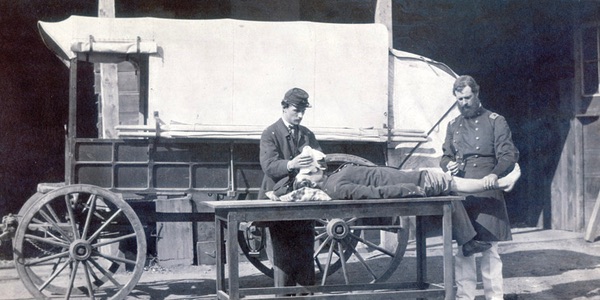 In contrast to nurses who've traditionally worn a uniform, surgeons didn't wear any specialized uniform until well into the 20th century. Instead, a surgeon wore street clothes, often protected with a butcher's apron, and worked bare-handed.
After the 1918 Spanish Flu pandemic, health care professionals had a growing interest in Lister's antiseptic theory, so doctors smartly began wearing masks and rubber gloves. By the 1940s, sterilizing instruments became a standard practice. Operating room attire also had changed quite dramatically. In the 1950s and '60s, the all-white surgical attire got replaced by various shades of green to reduce eye fatigue and hide stains.
By the 1970s, medical uniforms matured to the V-neck short-sleeved scrubs you see today. Originally these were known as "surgical greens," but over time became known as "scrubs" because of their widespread use in "scrubbed" environments and how easy they are to clean.
Today scrubs and lab coats come in various colors and sizes and are worn in healthcare and other personal service businesses as everyday work uniforms. In addition, many customers add an embroidered logo to scrubs to present a more professional appearance.
Wondering Why Lab Coats Are White?
Back in the 19th century, white was the color of hope, purity, and transformation, an apt color as science was becoming a more popular profession. However, there were some practical reasons for why lab coats were white—these white fabrics were the cheapest available at the time, and dyeing lab coats any other color would have cost more. White fabrics also held up better under frequent washing and bleaching to remove chemical odors and stains.
Your Most Burning Questions About Custom Embroidered Scrubs and Lab Coats, Answered
Now that you've selected the right custom scrub or lab coat style for your employees, you probably have questions about how we get your logo or message onto the uniform basics as eye-catching embroidery. Here are the top things our customer service reps hear about how we stitch your logo on your custom scrubs or lab coats.
Q. I've never bought embroidered lab coats before. I only have a small image of my logo. Will that work?
Yes! All you need to do is upload your company logo into our Design Center, and we'll take it from there. Our embroidery specialists have converted more than 100,000 corporate logos into stitch-ready files, so you can be confident that your custom lab coats will be an excellent representation of your healthcare or medical brand. If you have any preferences on the logo size, colors or location on your embroidered lab coats, just add them in the notes sections.
Q. So you need to "convert" my logo into an embroidery file before you embroider it on my custom lab coats. What exactly does that mean?
When you upload an image or logo for us to embroider on your towels or robes, we convert it to an embroidery-machine-friendly file so we can stitch it out on our machine. (This conversion process is also called digitizing.) For the best possible results, we digitize your custom logo or artwork by hand. The talented embroidery artists on our Corporate Casuals design team use the most up-to-date digitizing software to develop a stitch file that will result in the crispest, best-looking embroidery.
Q. How do I choose the right thread colors for my logo?
Extra points for a great question! The thread colors you choose for your logo is one of the most important decisions you'll make during your ordering process. However, we recommend no more than six to nine colors for an embroidered logo.
Most likely, you're working with specific colors your healthcare company has selected to represent your brand. If that's the case, you'll generally have access to your brand's Pantone Matching System (PMS) colors. We can easily match our embroidery thread colors to your brand's exact PMS colors at no charge.
Q. What's the best size for embroidered text?
The best size for embroidered text lettering is 1/4 inch (6.3mm) or taller. We recommend a block font that doesn't contain any fine details less than 1/16 inch (1.5mm) wide.
Q. I might not want my logo on the scrubs or lab coat. I might just want some block text embroidered on it. Is that possible?
Yes, absolutely. Simply visit our online Design Studio and create artwork using text only. You can choose from different block fonts, along with other fancy and script fonts. There's no setup fee or conversion process required for any embroidered logos that you create in our Design Studio.
Q. Can I make a personalized scrub top or lab coat with a name and title?
Yes, you can add a name and/or title for a small fee to each item. We offer free setup for all personalization. We recommend no more than two lines of text containing 20 letters per line for the best embroidered look. If you need something different, one of our knowledgeable Corporate Casuals reps can work with you.
Q. How do I measure the right size for my scrubs?
Great question! You'll want to take your measurements while you're wearing undergarments, using a flexible tape measure that you hold in a relaxed straight line while measuring around your body. Here's the breakdown to get the right measurements:
Custom Embroidery Locations on Your Custom Scrubs and Lab Coats
Left Chest

The default location on a scrub top or lab coat is the left chest. Your logo can be 4 inches wide by 3 inches tall. Most scrubs and lab coats have ample open space and can often accept slightly larger embroidered logos. For other locations, add an order note at checkout, and we'll try to accommodate your needs!

Right Chest

For scrubs with left-chest pockets, we recommend using the right-chest location. However, it's possible to place smaller embroidered logos over the pocket, if you prefer that look

Left Chest Over Pocket

If your scrub has a left-chest pocket, we recommend switching to the right chest if possible. If not, you should keep your logo smaller than 4 inches wide by 2 inches tall.