Custom Jackets No Minimums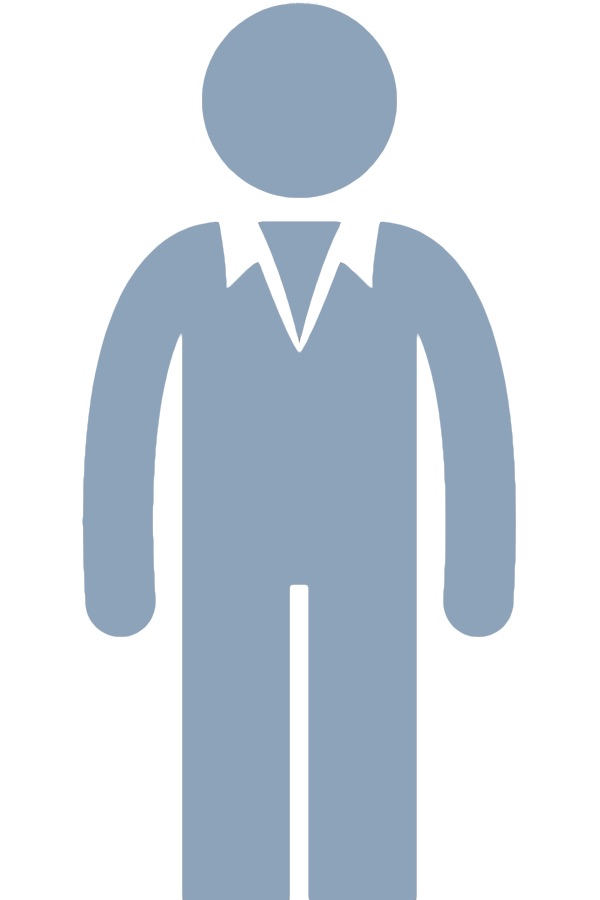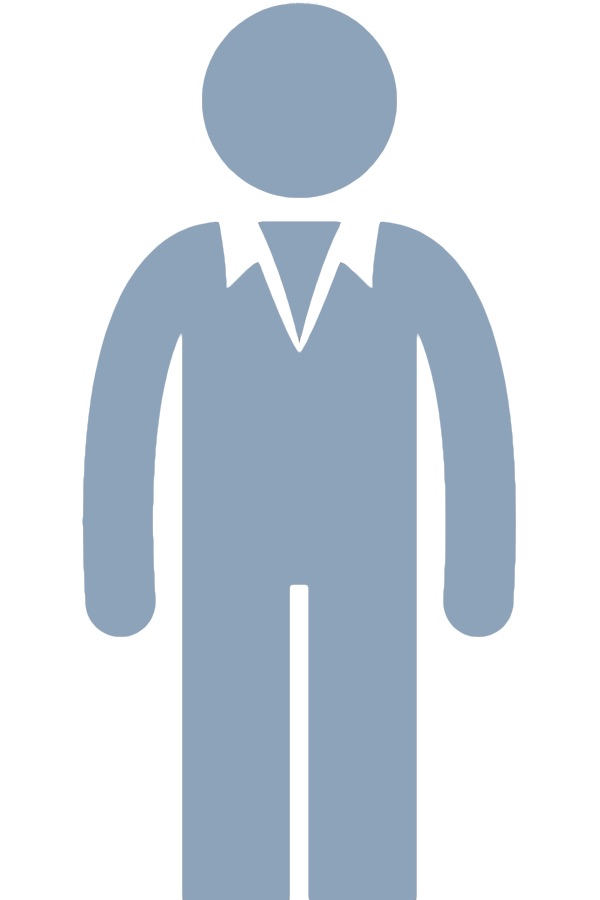 WHITE
Custom jackets are a hugely popular item in fall and winter months—and a cost-effective way to advertise your business. An employee or a favorite client who wears a custom fleece jacket with your logo will get seen more than 6,000 times by potential customers. We partner with premium brands like adidas, Carhartt, Columbia, Eddie Bauer, Nike, Spyder and Under Armour, so your logo gets seen alongside name brands we all know and love.
What Are My Jacket Style Options?
Every jacket is part fashion and part function. Select the custom jacket style for when, where how your wearers will use the outerwear, whether it's a softshell jacket, work jacket, fleece vest or a rain jacket. For something different check out our custom denim jackets (sometimes called jean jackets).
Custom Embroidered Softshell Styles

When you need the breathability of fleece, but want protection from light snow, rain and wind for outdoor work, sports or events, a soft shell jacket is the right choice. A well-insulated softshell is also easily washable and doesn't pill.

Custom Embroidered Insulated Jackets

When conditions are cold and windy, you need an insulated jacket. A key component of these jackets is the insulation material, like down, Thermoball or PrimaLoft, that keep you warm.

Custom Embroidered Fleeces

A lightweight fleece layer comes in full-zip, partial-zip and vest styles. Fleece sweaters are typically water repellent, fast drying and good for dry weather. Textured fabrics like fleeces have been on-trend in recent seasons, and will continue to be popular.
Top Decorating Methods for Custom Jackets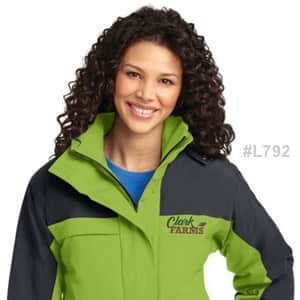 A stitched logo looks crisp and clean on the left or right chest of your custom jacket or fleece. We use industrial embroidery machines to stitch your logo using durable, colorfast rayon threads that contrast nicely with your jacket color, and last through lots of washes and wears. Embroidery is great way to customize uniform jackets or gifts to present your company or team in the best possible light. People perceive embroidered jackets as higher value, so they also make great for-sale items. The cost of embroidery depends on how many colors and stitches there are in your logo.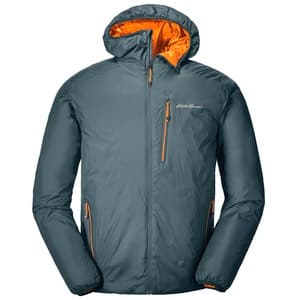 Screen printing involves applying layers of ink to your jacket with a mesh screen for every color in the design. We recommend embroidery as our top choice for decorating jackets, since screen printing on jackets with a protective finish or thicker fabrics like fleece isn't ideal. If you need custom printed jackets for a uniform, gift or for a destination gift shop embroidery is a great choice for your jacket order.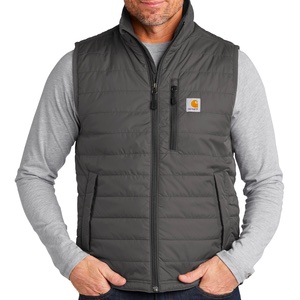 Custom heat transfers for jackets are a smart choice. They're economical, and you can get a sharp, full-color design on your jacket's left or right chest. Also known as a digital transfer, we digitally print your logo or design onto transfer paper. Then, we transfer the ink from the paper to your jacket using thermal pressure. Great for getting one custom jacket or hundreds, a heat transfer is a cost-effective, durable option for printed jackets. For outerwear and fleeces in general, we recommend embroidery as the best decoration option.
Lots Of Custom Logo Locations
The best place for your embroidered logo, graphic or message is on the left or right chest of your custom jacket or fleece. That way, more people clearly see your message. If you want a different or additional placement, like on the sleeve or back yoke, you can specify that in the notes section for us when you check out. Upload your own artwork in our design studio, and we'll take care of the rest!
Your Ideal Custom Jakcet Logo Size
A general rule of thumb is to keep your custom jacket logo less than 3 inches tall by 4 inches wide. The best size for embroidered text lettering is 1/4 inch (6.3mm) or taller. We recommend a block font that doesn't contain any fine details less than 1/16 inch (1.5mm) wide.
Where Do You Recommend I Put My Logo on My Jacket?
Default Logo on Left Chest

The default location for an embroidered logo is the left chest. If there is no brand logo personalization text may be placed on the right chest.

Brand Logo on Left Chest

If the jacket you choose has a brand logo on the left chest, then your custom embroidered logo will be stitched on the right chest. If you require personalization, then it will need to be stitched under the main logo.
What Jacket Features Should I Look For?
Security Pockets

These custom jackets offer lots of features like internal security pockets with zippers for storing important items like keys and phones.

Drawcords

When you're battling the elements, you can adjust the fit of a jacket with drawcords at the waist, cuffs and on the hood.

Vents

For active folks, you can open vents up to cool down and release heat and sweat. (A wet jacket is a cold jacket.)
Packability and Storage

Many jackets provide an internal stuff sack to make packing and storing your jacket a breeze.

Zipper Pulls

Zipper pulls make opening and closing zippers easier, especially with gloved hands.

Performance Features

For people who'll be out in the elements, pick jackets with performance features, like wind resistance and water resistance. Insulated jackets will also keep you warm in the coldest temperatures.
Your Frequently Asked Questions, Answered
Question #1: What kind of logo image do I need to get started?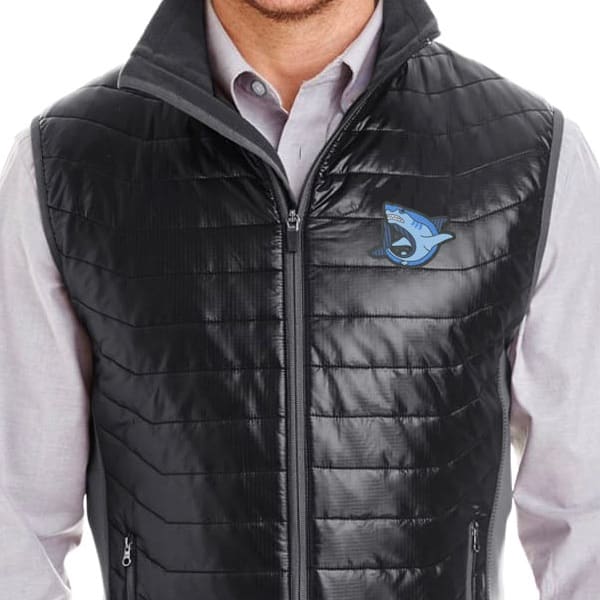 WE START WITH YOUR LOGO
Its easy to create custom fleece, all you need to do is
upload your logo
, and we'll take it from there. (Or, upload your business or team logo and we turn it into a stitched logo for a small setup fee.) Our embroidery specialists have converted more than 100,000 logos into stitch-ready files, so your custom jacket or fleece will be a great representation of your brand, organization, school, team, club or event. If you are looking for a personalized jacket, we offer personalizations for a small fee. You can set this up yourself in the shopping cart.
Question #2: Do I really pay my one-time setup fee only one time?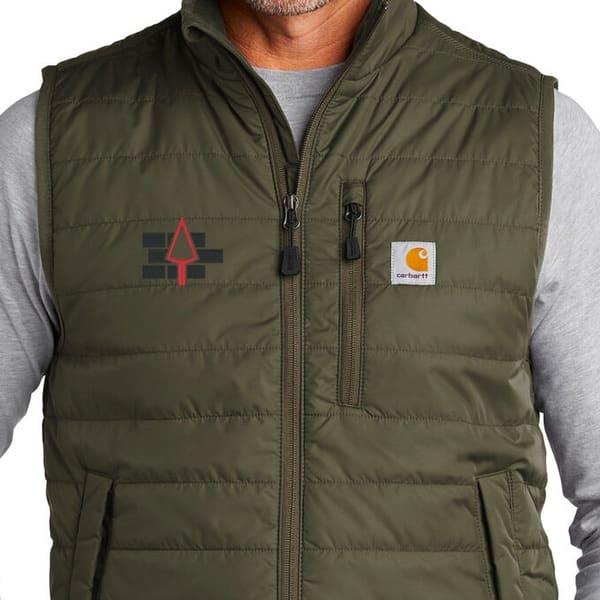 TRANSPARENT PRICING
Yes! It costs $35. You'll see this one-time fee added to your shopping cart. Any future orders you place using this logo won't be charged a setup fee. The stitch file is yours, and you can download it anytime. Some shops require a "tape charge" (usually $10-$20) if you want a copy of your stitch file. This policy is very common on websites that give you "free setup," so was it really free? Our costs are transparent. Remember, we have no minimums, so you can order one custom jacket or hundreds!
Question #3: What kind of insulation can I find in your jackets?
When conditions are cold and windy, you need an insulated jacket. A key component of these jackets is the material used as insulation. There are several common insulation materials in use.
Thermoball Insulation

Thermoball insulation works similar to down with a bit less warmth and excellent compressibility. Thermoball fibers provide much better performance when wet.

PrimaLoft Insulation

Primaloft is the preferred insulation for top brands like The North Face. Its construction provides uniform coverage with no "cold spots" that can sometimes form with loose-fill insulation.

Down

Down is nature's best insulator. It provides the most warmth with the least bulk. Its weakness is its ability to provide warmth when wet.
Question #4: Can I get brand-name custom jackets on your site?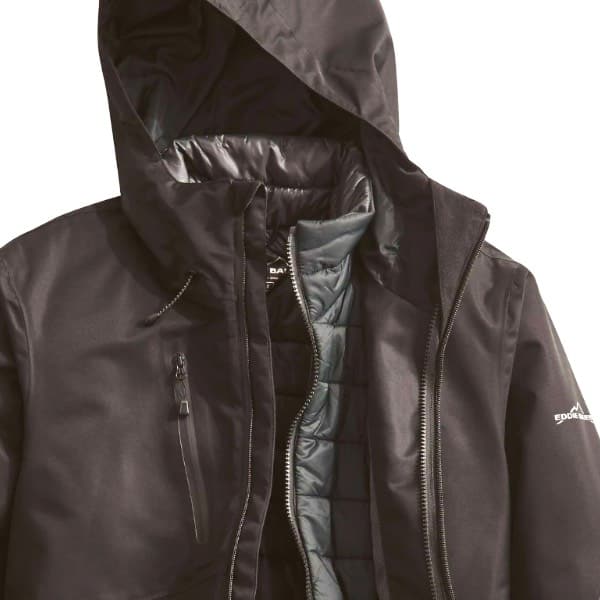 NAME BRANDS GALORE
1,000% yes! We've partnered with a long list of well-loved brands so you can score a custom name-brand jacket or vest at wholesale, and place your logo or message right alongside these in-demand logos when you order custom jackets, fleeces or puffer vests. You'll find jackets from adidas, Carhartt, Columbia, Eddie Bauer, Nike, OGIO, Spyder and Under Armour. Trust us, you won't be disappointed by this curated selection when you start creating your customized jacket order in our online design studio.
Custom Jackets Offer Great Branding ROI
We carry a wide selection of jackets and fleeces, and even matching polo shirts just waiting to sport your logo. We'll expertly customize each jacket you choose to showcase your logo on high-quality, wear-everywhere outerwear. Our decoration process is efficient and cost-effective, and gives you quality results with every order. We have no minimums and fast turn times, so you can create your own jacket or fleece in our design studio and get your outerwear even faster for your corporate apparel, event or team needs!