Custom Embroidered Vests Quick Start Guide
Vests are an amazingly versatile layer that people wear all year long. These pieces are both fashion-forward and functional, as they keep wearers looking great—as well as warm and protected from the elements. Our corporate customers (like you) love the idea that more than 6,000 potential customers see their company logo neatly embroidered on a vest that gets worn much of the year.
Whether you're outfitting your team members from head to toe, or adding a custom embroidered vest to their uniform look, we offer a variety of affordable styles, along with retail pieces from top brands like Marmot, The North Face, Columbia, Patagonia, Carhartt and many others.
You'll Find the Perfect Custom Vests Here
We offer an unmatched selection of high-quality basics in a variety of on-trend styles, on-brand colors, flattering fits, silhouettes, and super-soft fabrications like fleece, along with performance features and thoughtful details.
How Does a Vest Keep You Warm?
Modern vests use a variety of natural and synthetic insulation materials. Here are three of the most common types.
Down

Down is nature's best insulator, and provides the most warmth with the least bulk. Since its weakness is its ability to provide warmth when wet, most vests with down insulation have an outer shell fabric treated with a water-repellent finish.

Synthetic Insulation

Synthetic insulation is designed to replicate the qualities and warmth of down, and retains them even when wet.

PrimaLoft Insulation

PrimaLoft is the preferred insulation for top brands like Patagonia and The North Face. Its construction provides uniform coverage with no "cold spots" that can sometimes form with loose-fill insulation.
Top Features in Our Unmatched Vest Selection
Vests pack a lot of function into a smaller package. The outer layer often has special performance properties that repel or resist rain or snow, keeping the inner layer intact. The inner layer is usually some form of insulation that traps hot air for reduced heat loss and increased warmth. Unlike other bulkier outerwear styles, these vests are highly compressible so you can easily pack or stow them if you're on the move or traveling to a client meeting or a trade show.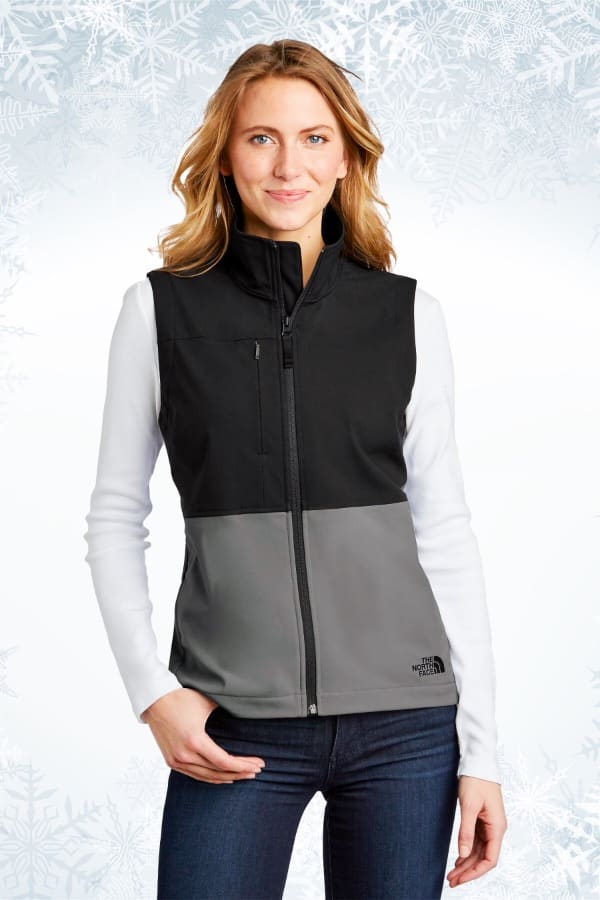 Soft-Shell Vest
A soft-shell vest, made from a woven material, is designed to bridge the gap between a fleece, which offers less water resistance and wind protection, and a waterproof vest, which isn't as stretchy. These vest styles are often windproof and water resistant, making them ideal for damp, rainy or snowy days. They're durable, so they won't pill with regular washing and wearing. Soft-shell vests are also well insulated, so you'll stay warm even in the coldest climes.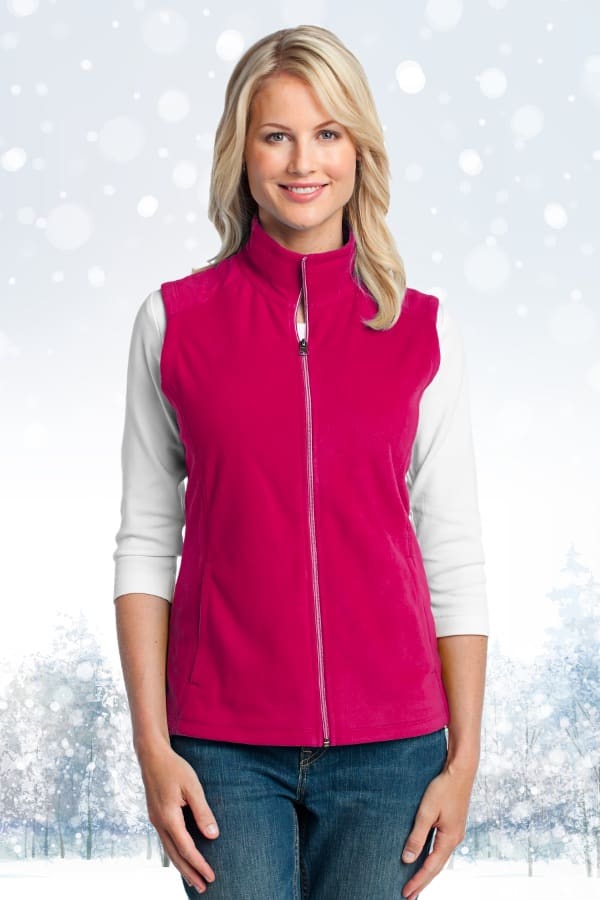 Fleece Vest
A fleece vest is a lightweight piece made of a polyester synthetic wool, such as polar fleece. Fleece vests are typically water repellent, fast drying and good for dry weather. Textured fabrics like fleeces have been on-trend in recent seasons, and will continue to be popular.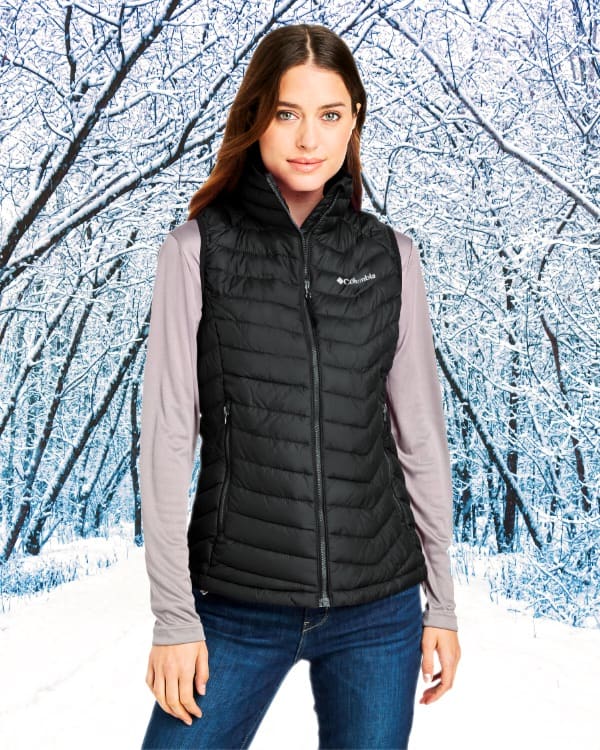 Puffer Vest
Often filled with down or synthetic materials, puffer vests offer great insulation, meaning that they work to retain your body heat and regulate your body temperature, no matter what the outside weather. Due to their breathable fill and sleeveless fit, they keep you from overheating when you're in motion. In cold weather, you could pair a moisture-wicking long-sleeve tee with a thick puffer vest.
The Anatomy of a High-Quality Vest
Here's a mini-anatomy of a custom vest, so you know your way around these versatile garments.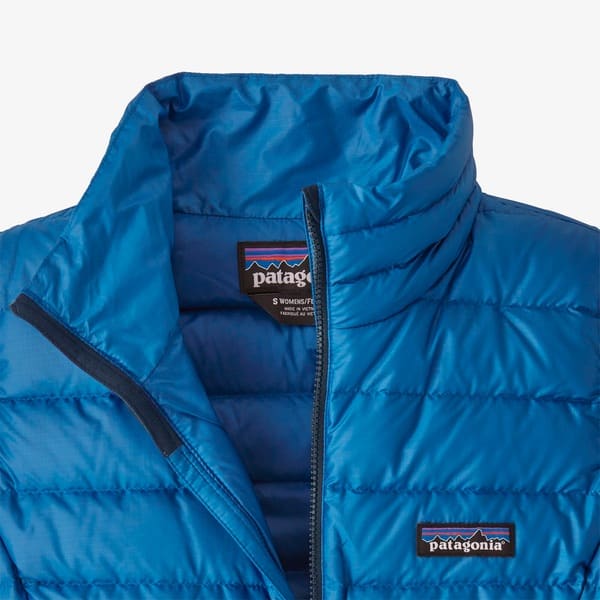 Collar
Many vest styles offer zip-through cadet collars with chin guards to offer extra protection from the elements and keep you warm.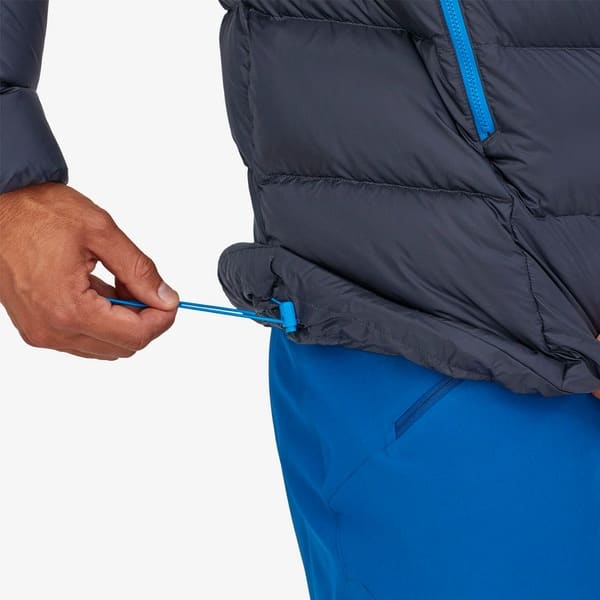 Drawcords
Various vest styles come with drawcords, usually at the waist, so you can adjust the fit and keep the elements out. Some vests have drawcord-adjustable drop-tail hem to really seal in body heat and warmth.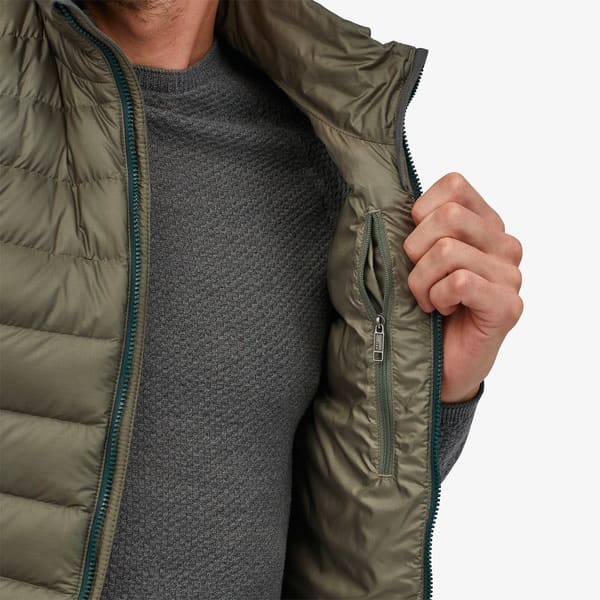 Pockets & Security Pockets
Many custom vests also feature roomy zippered chest and side pockets so you can carry items or have a place to keep your hands warm. Some styles also offer internal pockets with a zipper that are perfect for securing important items like your ID, keys and smartphone.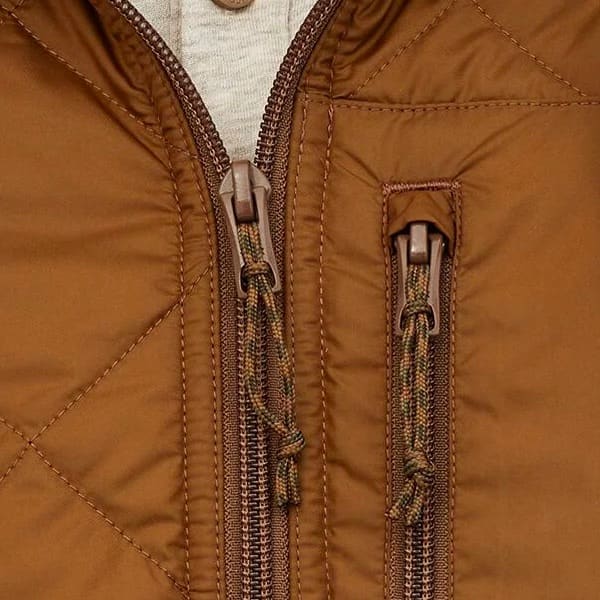 Zippers & Zipper Pulls
Of course, zippers are functional on custom vests. However, lots of designers like Louis Vuitton and NikeCourt also use zippers as fashion details. Zipper pulls make opening and closing zippers easier, especially with gloved hands.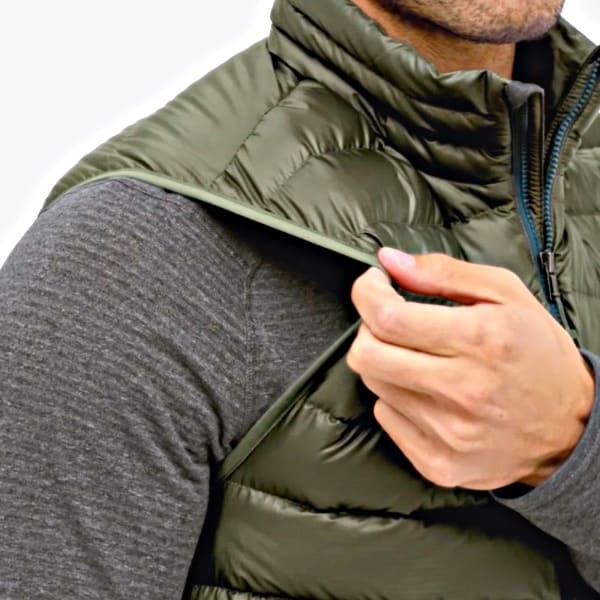 Elastic Hems
Vests are designed to be cozy, so a comfort-fitted waistband and arm holes keep heat close to your body.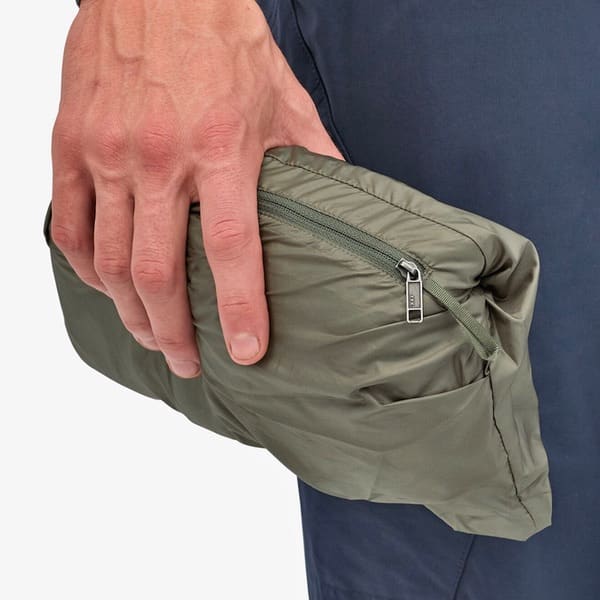 Packability and Storage
Many of our vests include an internal stuff sack to make packing and storing your vest super-easy. Perfect packability for travel and trade shows!
Embroidered Vests as Unique as Your Brand
At Corporate Casuals, we're big believers in one-size-doesn't-fit-all, so we offer an unbelievable selection of custom vests so you can find exactly what you need.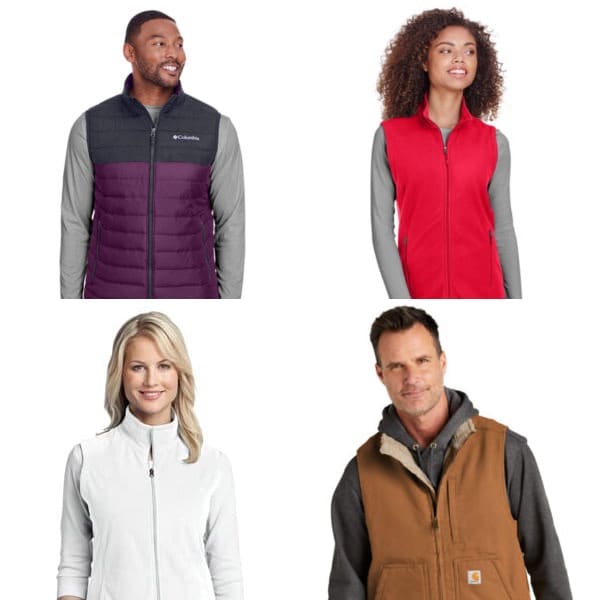 Color Selection
When our customers are searching out the perfect vest to represent their brand, color is very important. We have many core and fashion colors to match any brand, school or team. You'll also see different surface textures like faux leather-like brick quilting or sueded fleece that add interest to the vest.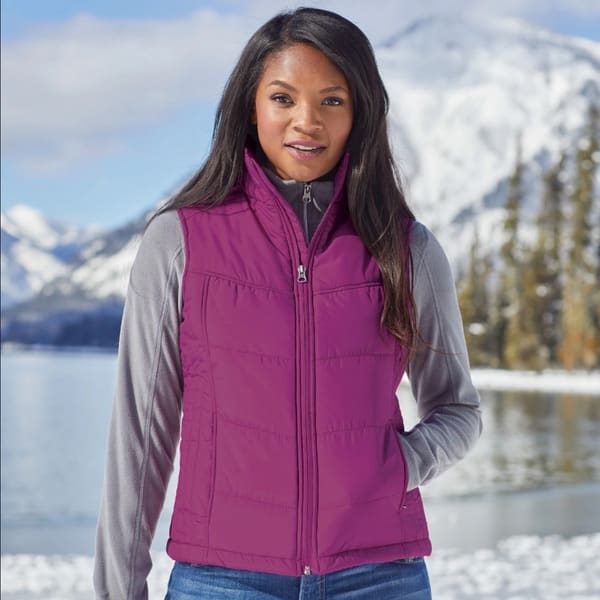 Flattering Silhouettes & Fits
When you browse our custom designed vests, we know you want to pick styles that fit and flatter real people. You'll find men's, women's and youth styles, specifically tailored to fit every body type. Oftentimes, vests don't fit and flatter the female form, but our selection offers cuts that women love to wear.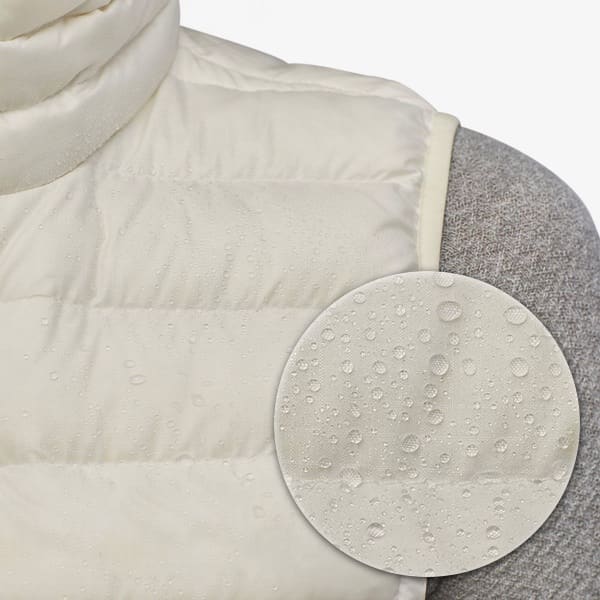 Performance Features
Whether you're in the wilds of the mountains or around the office, many of our vest styles offer performance features that offer weather resistance to wind, rain and cold, along with superior comfort and breathability. Some of our styles are also reversible, adding to their form and functionality.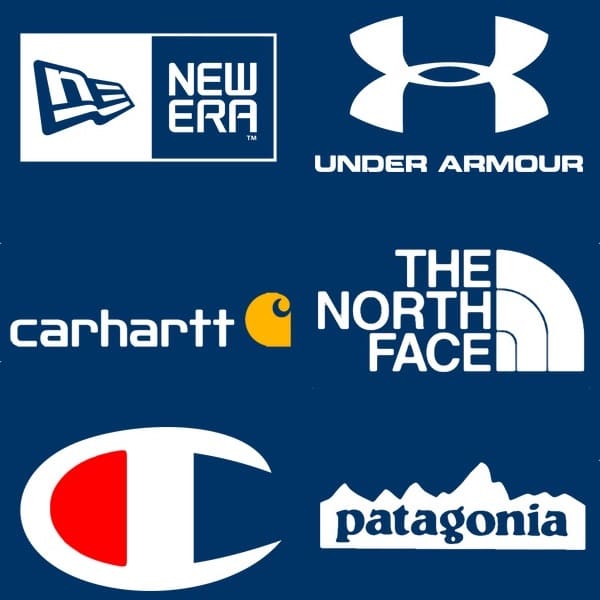 Retail Brands
As we mentioned, we're a one-stop shop where you can get high-quality embroidered vests from coveted brands like adidas, The North Face, Patagonia, Columbia, Carhartt and many others. You can select great styles from these retail name brands, and we can embroider your logo or message artwork on them, all in time for your next big event or a new trade show season.
Your Biggest Questions About Custom Embroidered Vests, Answered
Now that you've selected the right vests for your employees, you probably have questions about how we get your logo or message onto the vests as eye-catching embroidery. Here are the top things our customer service reps hear about how we stitch your logo on your custom vest.
Q. I've never gotten custom vests before. I only have a small image of my logo, Will that work?
Short answer: You're going to love our answer. All you need to do is upload your logo into our online Design Center, and we'll take it from there. Our embroidery specialists have converted more than 100,000 corporate logos into stitch-ready files, so you can be confident that your vests will be an excellent representation of your brand. If you have any preferences on the logo size, colors or location on the vest, just add them in the notes sections. Your customer service representative will review your order and notes before we move forward, to make sure that everything is perfect. If you want to learn more check out out our Ultimate Guide to Embroidery.
Q. So you need to "convert" my logo into an embroidery file first. What exactly does that mean?
When you upload an image or logo for us to embroider on your apparel, we convert it to an embroidery-machine-friendly file so we can stitch it out on our machine.This conversion process is also called digitizing. For the best possible results, we digitize your company logo or artwork by hand.

The talented embroidery artists on our Corporate Casuals design team use the most up-to-date digitizing software to develop a stitch file that will result in the crispest, best-looking embroidery. Even when you run artwork through the software's auto-digitizing function, you still won't achieve the same level of quality that our artists do. You need human intervention and a trained eye to create the highest-quality stitch files.
Q. How do I choose the right thread colors for my logo?
The thread colors you choose for your logo is one of the most important decisions you'll make during your ordering process. Most likely, you're working with specific colors your company has selected to represent your brand. If that's the case, you'll generally have access to your brand's Pantone Matching System (PMS) colors. We can easily match our embroidery thread colors to your brand's exact PMS colors at no charge.

If your goal is for your logo to have maximum visibility to potential customers, then we recommend that you select thread colors that contrast strongly with the color of the vest you've chosen. However, since embroidery is such a unique decorating method, even non-contrasting logos can still look great.

So if you prefer a more subdued look, you can opt for a tone-on-tone design where your logo color and vest color differ by about one shade. We can even do a color-on-color design where we match your logo color to the exact shade of your vest. Since we use three-dimensional threads that reflect light in a unique way, viewers will still be able to easily recognize your logo, which will have a more upscale engraved look.
Q. I might not want my logo on the vest. I might just want some block text embroidered on it. Is that possible?
Yes, absolutely. Simply visit our online Design Studio and create artwork using text only. You can choose from different block fonts, along with other fancy and script fonts, depending on your vibe There's no setup fee or conversion process required for any embroidered logos that you create in our Design Studio.
Custom Embroidery Locations on Your Custom Vests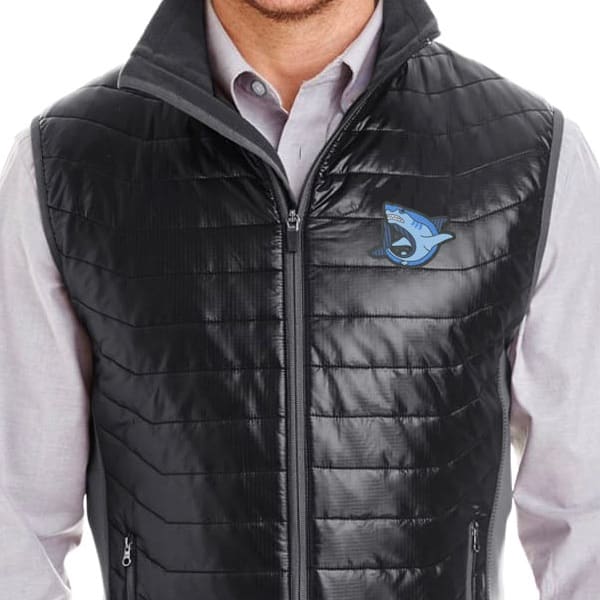 Default Left-Chest Logo Location
The default location for an embroidered logo on a custom vest is the left chest. If you don't have a logo, we can stitch your company name or a message on the vest's right chest.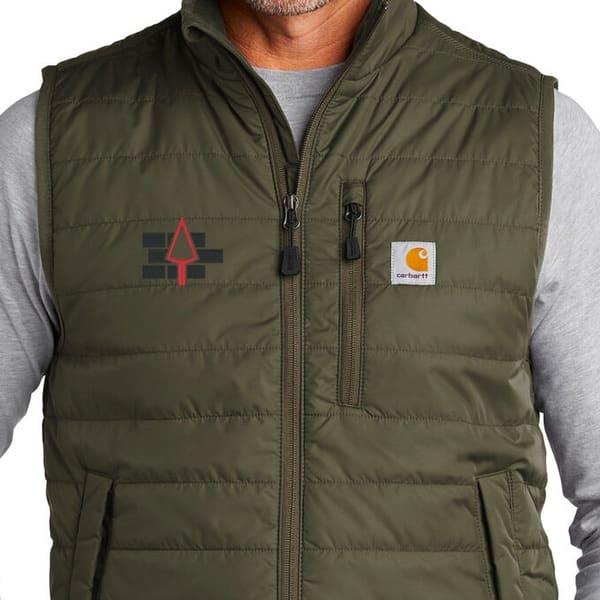 Brand Logo on Left Chest
If the custom vest you choose has a retail brand logo on the left chest, then we'll embroider your custom logo on the right chest. If you require personalization like an employee name drop, then we'll stitch that text under your main logo.
There are 30,000+ embroidery shops in the US, why should I go with Corporate Casuals?
We've been turning out world-class embroidery for nearly 40 years, so we're true experts!
We use industrial-grade, embroidery machines by Barudan, so your embroidery looks great
We have no minimums, order one vest or one thousand
We offer generous bulk discounts for wholesale quantities