Brands You Love
Embroidered Sweatshirts & Hoodies Quick Start Guide
Embroidered sweatshirts are an essential item when the weather turns cooler. However, with the newer lightweight fabrications, you can wear sweatshirts all year long.
Our corporate customers (like you) love the idea that 6,100 potential customers see their logo neatly embroidered on a sweatshirt that gets worn all year long.
You'll Find the Perfect Custom Sweatshirts Here
The streetwear and athleisure markets have exploded over the past couple of years, and we know customers want much more than just a classic pullovers or custom hoodies. You deserve to find the perfect embroidered sweatshirts, hoodies and pullovers, custom designed for your exact branding specifications.
The great news is that we offer an unmatched selection of high-quality basics in a variety of on-trend styles, eye-catching colors and patterns, flattering fits, silhouettes, and super-soft fabrications, along with performance features and thoughtful details. Embroidered sweatshirts and hoodies are warming, functional and fashion-forward.
In short, high-quality custom sweatshirts are one of the best ways to brand your business. When you give these comfortable custom hoodies to employees or clients, every time they wear the hoodie out and about, more people see your logo (like up to 6,100 times or more).
With the pandemic changing so many aspects of our daily lives, we've watched streetwear extend into trendy, comfortable athleisure wear. Even though we're returning to "normal," work-from-home and the casualization of workplace apparel is here to stay.
To add to the mass appeal of custom sweatshirts and hoodies, lots of high fashion houses like Louis Vuitton and Balenciaga offer luxury versions of these basics. Throw in Versace, Fendi and Ralph Lauren, which have collaborated with notable streetwear designers to launch special collections.
That's why investing in custom embroidered sweatshirts or adding them to your corporate store is a great way to get massive ROI on your marketing dollars.
Top Features in Our High-Quality Sweatshirts & Pullovers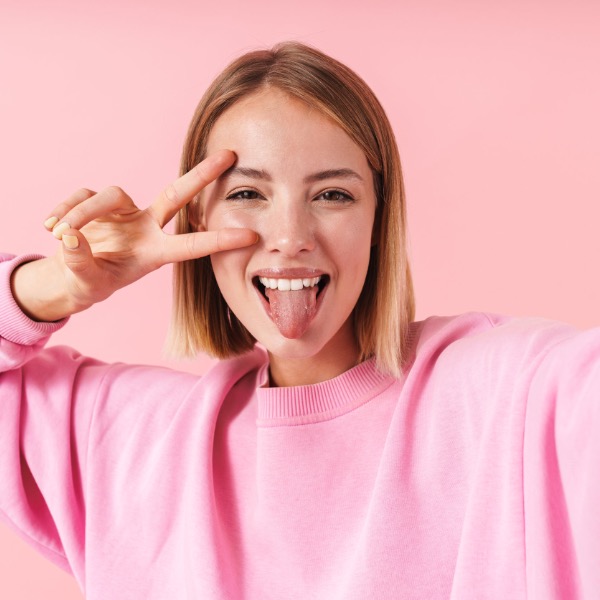 Crewneck
Some sweatshirt and pullover styles have a
crew neck
, which is a round neckline with no collar, often worn with other layers. (The crew neck dates back to 1939, and was named after a type of sweater worn by rowers.)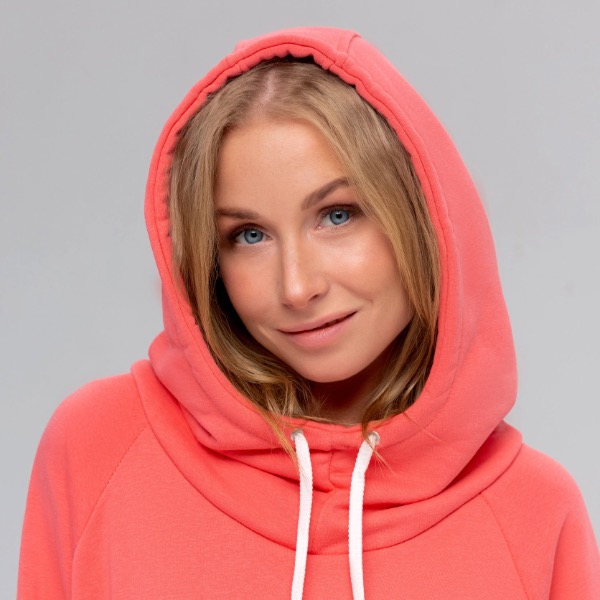 Hoods & Drawstrings
Obviously, a hoodie is a type of sweatshirt that features a hood. Some hoodies have a different color or pattern inside the hood to add contrast and interest.
A drawstring is material threaded through a casing, used to cinch or close something. They're used in sweatshirt hoods to help them fit snugly, and they're also fashion elements. Drawstrings can be dyed to match the sweatshirt color, or can be a complementary hue. Sometimes, apparel manufacturers add cool hardware at the drawstring ends for added flair.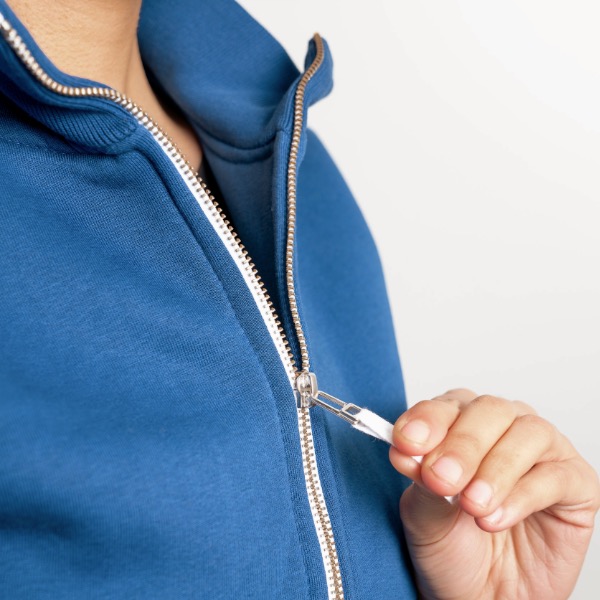 Zippers
Of course, zippers are functional on custom sweatshirts, whether it's a
quarter-zip or full-zip
. However, lots of designers like Louis Vuitton and Nike also use zippers as fashion details, whether they're reverse color or placed on the sides or around the hood.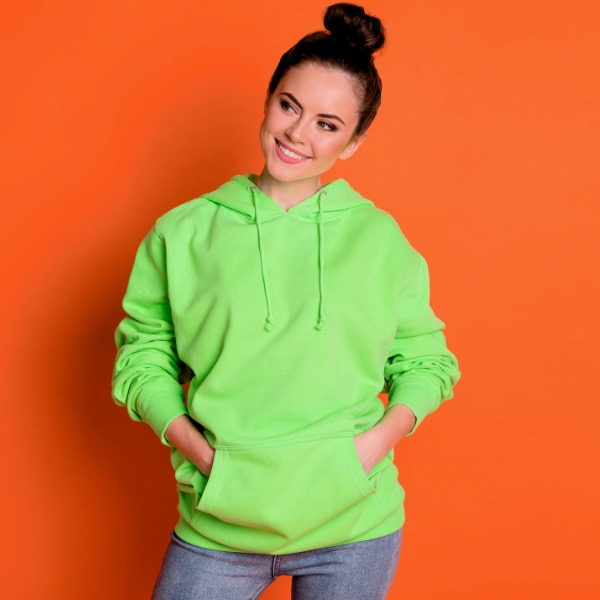 Kangaroo Pockets
Many custom sweatshirts and hoodies also feature a large pocket or pockets at the front so a wearer can carry items or as a place to keep their hands warm.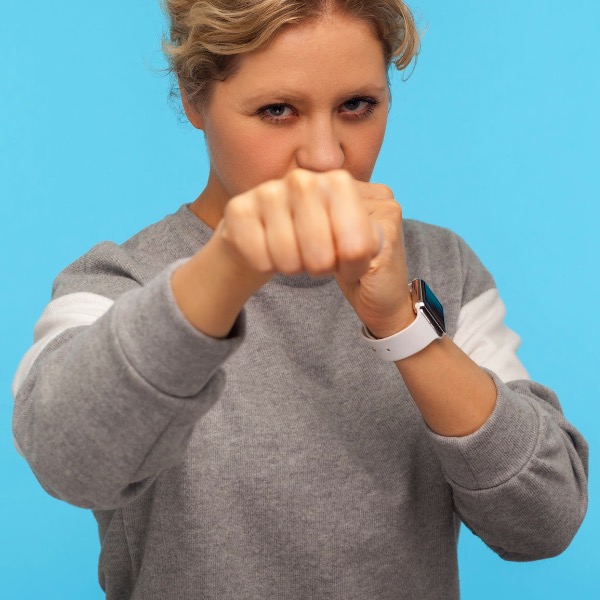 Elastic Cuffs and Hems
Sweatshirts and hoodies are designed to be cozy, so a comfort-fitted waistband and cuffs keep heat close to your body.
Custom Hoodies as Status Symbols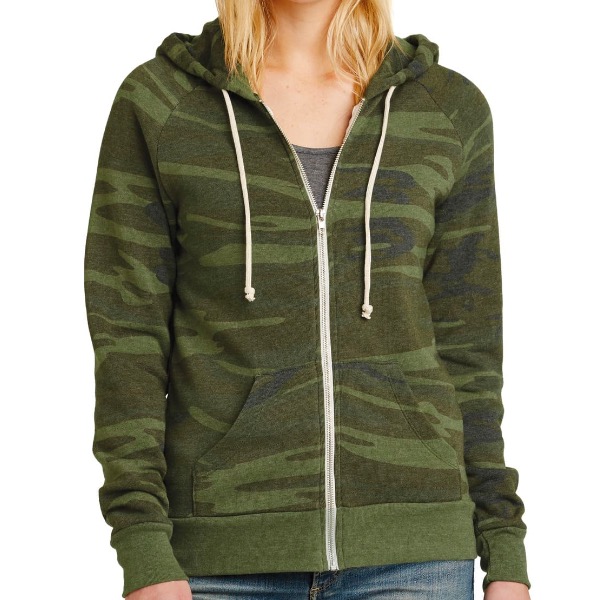 Colors & Patterns Galore
When our customers are searching out the perfect hoodie to represent their brand, color is one of the first and most important aspects. We have many core and fashion colors to match any brand, school or team. We also offer color-blocked styles so you can have your brand color and a little eye-catching contrast too.
Of course, we also carry on-trend patterns like camo and tie-dye to fit specific demographics and special events.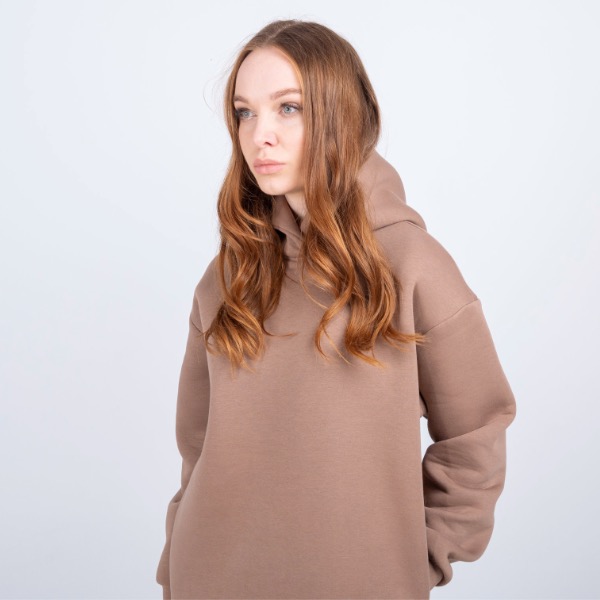 Flattering Silhouettes & Fits
When you browse our custom designed sweatshirts and hoodies, we know you want to pick styles that fit and flatter real people. You'll find men's, women's and youth styles, specifically tailored to fit every body type.
Fantastic Fabrications
Everyone's got their favorite fabrication, so of course, our crewneck sweatshirts and hooded sweatshirts come in variety of lightweight, heavyweight and textured fabrics. In addition, if you're committed to reducing your brand's carbon footprint, you can pick a pullover made of recycled materials or other eco-friendly fabrics.
Here are a couple of fabric types that you might be new to (but will love):
French terry

A knitted fabric that contains loops and soft yard piles on one side (usually the inside) and a smooth, soft material on the other. These pullovers are lightweight, absorbent and moisture wicking. Plus, you can move freely in a French terry hoodie, so they're great for all types of activities. This fabric is great to wear from summer into fall.

Sponge Fleece

An opulently soft, and is a fabric with great stretch and recovery. This midweight fabric, which has a brushed, plush inside, can be worn all year round, whether alone or as an extra layer.

Performance Fleece

Don't overlook our

performance fleece

options with moisture-wicking and rain-protective properties.
The Sweatshirt's Epic 100-Year Journey
Have you ever wondered how the sweatshirt was invented? Check out a few of the major milestones on the sweatshirt's timeline. (You'll be that sweatshirt factoid nerd at every party.)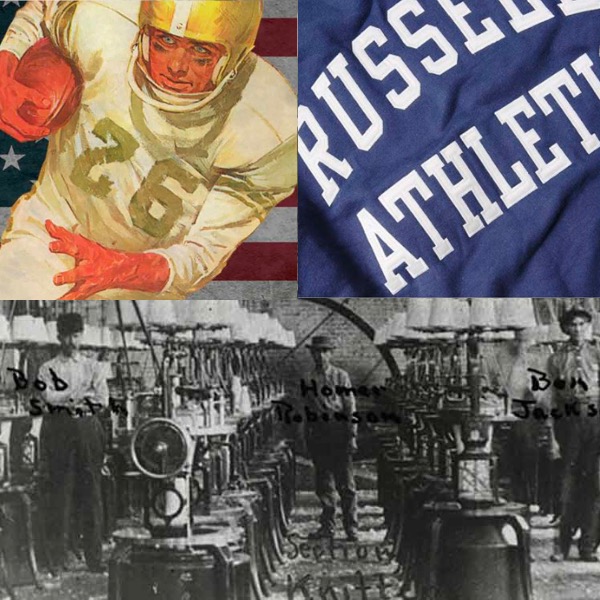 The First-Ever Crewneck
The first crewneck sweatshirt was invented in 1920 by Benjamin Russell, Jr., a football player at the University of Alabama. He was tired of the itchy, hot and downright uncomfortable wool jerseys he wore out on the field. In a flash of brilliance, he asked his father, Benjamin Sr., "What if we could replace this awful wool fabric with stretchy fabric that moves with me?" That sparked the now-century-old Russell Athletic Co., and chances are, you've got one of the company's sports-influenced garments in your closet.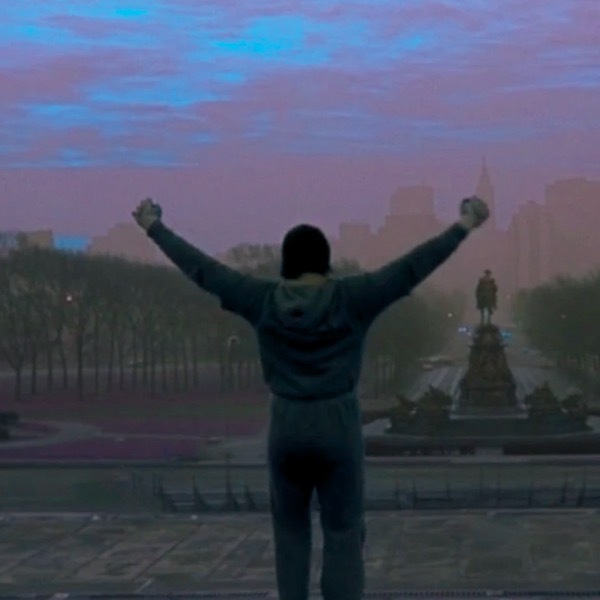 Adding Those Functional Zippers
A natural evolution of the crewneck slayers on the hip-hop, skate and streetwear scene, which is holding strong to this day. Fun fact: In 1976, the movie, "Rocky" increased the hoodie's popularity.
Custom Embroidery Locations on Your Sweatshirts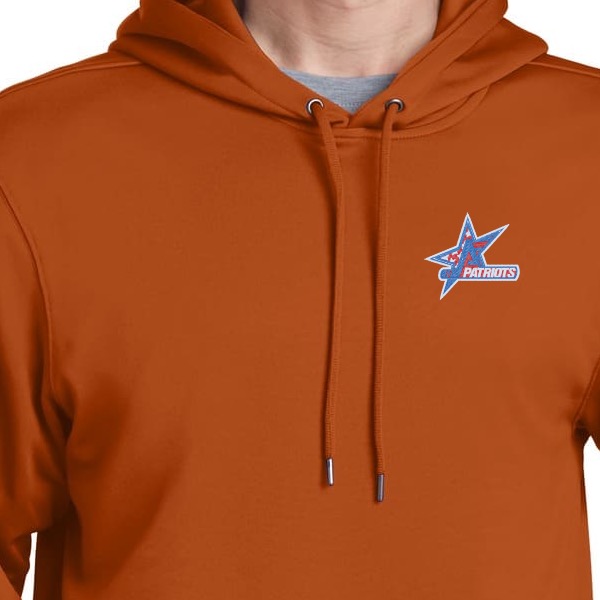 Default Left-Chest Logo Location
The default location for an embroidered logo on a
custom sweatshirt
is the left chest. If you don't have a logo, we can stitch your company name or a message on the hoodie's right chest.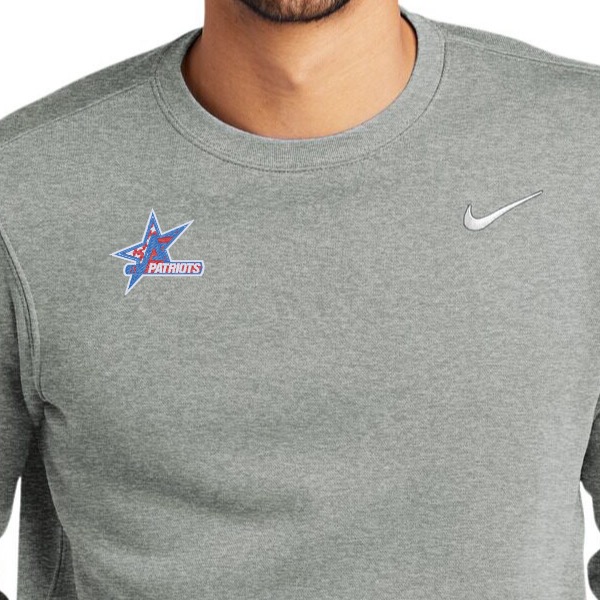 Brand Logo on Left Chest
If the custom sweatshirt or hoodie you choose has a retail brand logo on the left chest, then we'll embroider your custom logo on the right chest. If you require personalization like an employee name drop, then we'll stitch that text under your main logo.