Customize Your Favorite New Era Apparel
[-]
Before baseball was a thing, the Koch family embarked on a journey that would revolutionize the headwear industry. Since 1920, when the Kochs founded New Era, the brand has remained one of the world's premier headwear and sportswear companies. When you outfit your employees in custom New Era shirts, hats or fleeces, or give your top clients New Era jackets or bags, people will see your logo alongside one of the most recognizable sportswear brands in the world. Whether you need one custom New Era shirt, hoodie, jacket or hat, we've got you covered, since we've been stitching custom brand-name apparel since 1980.
[-]
Our Top-Selling New Era Styles
[-]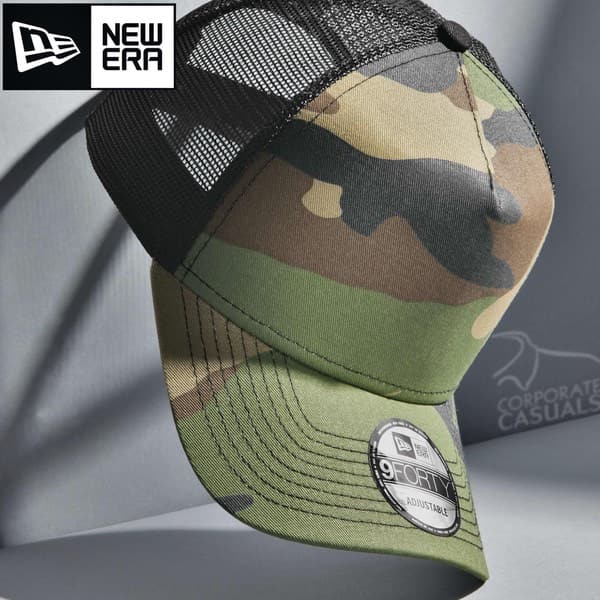 Corporate Casuals stocks a wide variety of in-demand New Era products, including headwear, t-shirts, polos, hoodies, fleeces, jackets, backpacks and more. Each of these popular items has New Era's logo on it in one or more locations, adding to the appeal when you make it part of a uniform, a gift or branded merchandise with your logo on it for sale.
For a century, New Era, which encourages people to truly express their personal style and individuality through its products, is best known for being the official on-field cap for the Major League Football League. Besides its renowned headwear collection, from fitted hats to snapback hats to beanies, the brand is also well-known for its apparel and accessories lines for men, women and children. Today, New Era is also a truly global brand, with offices in the United States, Europe, Japan and Australia. People across the sports, fashion, music and entertainment worlds love wearing New Era headwear and gear.
[-]
The Epic New Era Journey
[-]
For more than 100 years, New Era's been going strong. Here are some notable milestones on the company's journey to becoming a brand that's known, loved and worn worldwide.
[-]
1920s

German immigrant and skilled craftsman Ehrhardt Koch wanted to redesign the process of making "fashion headwear." In 1920, he borrowed money from his sister to start New Era Cap Co. In the first year alone, Koch's baby business turned out 60,000 Gatsby-style caps.

1930s

Ehrhardt's son, Harold Koch, joined the business, and noticed that consumers were excited about professional baseball. New Era took a risk and brought a totally new item to the marketplace: the baseball cap. The company produced its first professional baseball cap in 1934 for the Cleveland Indians' uniforms.

1950s

By 1950, New Era had little to no competition, as it was the only independent cap maker supplying baseball caps to 16 big league baseball teams, including the Brooklyn Dodgers, Cincinnati Reds and Detroit Tigers. In 1954, Harold designed New Era's fitted 59FIFTY cap with a contemporary look.

1990s

In 1993, New Era enjoyed the prestige of being named the exclusive supplier of on-field baseball caps for Major League Baseball. Then, in 1996, the brand created custom, fashion headwear for Spike Lee.

2010s

After dominating the MLB as the official on-field cap, New Era decided to get exclusive with some of America's other largest sports leagues. In 2012, New Era became the NFL's official sideline cap, and in 2016 the NBA's official on-court cap.

2020s

Besides its licensed MLB, NBA and NFL sports apparel, New Era has also created lots of TV and movie entertainment hats, for Power Rangers, Elf, Space Jam, Star Wars and The Goonies.
[-]
Embroidered New Era Products Everyone on Your List Will Love
[-]
At Corporate Casuals, we're big believers in one-size-doesn't-fit-all, so we offer a great selection of custom New Era products, so you can find exactly what you need. Once you choose a style you love, you can easily design a custom t-shirt, fleece, jacket or hat for a uniform or personalized gift in our online Design Studio. Or, you can upload your business or team logo and we can turn it into a stitched logo for a small setup fee. Our experts hand-picked these New Era styles and backpacks for their functionality, retail appeal and the fact that they embroider well. That means your employees will feel great and represent your brand superbly at every opportunity in this brand-name apparel, getting you thousands of positive brand impressions throughout the year.
[-]
Your Most Burning Questions About Custom New Era Apparel & Accessories, Answered
[-]
Now that you've selected the right custom New Era style for your employees or gift recipients, you probably have questions about how we get your logo or message onto these in-demand brand name pieces as eye-catching embroidery. Here are the top things our customer service reps hear about how we stitch your logo on your custom New Era gear.
[-]
Q. I've never bought New Era clothing or headwear before. I only have a small image of my logo. Will that work?
Yes! It's so easy you'll want to do it again and again! All you need to do is upload it into our Design Studio, and we'll take it from there. Our embroidery specialists have converted more than 100,000 corporate logos into stitch-ready files, so you can be confident that your custom New Era t-shirt, fleece, jacket, hat or other item will be an excellent representation of your brand. If you have any preferences on the logo size, colors or location on your embroidered New Era item, just add them in the notes sections.
[-]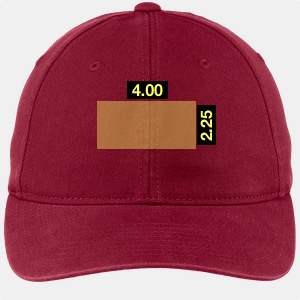 A general rule of thumb is to keep your logo less than 4 inches wide by 2.25 inches tall. Since some items have a lot of space, you can go a bit larger if you like. Remember, larger logos or artwork may cost more if they require more stitches.
The best size for embroidered text lettering is 1/4 inch (6.3mm) or taller. We recommend a block font that doesn't contain any fine details less than 1/16 inch (1.5mm) wide.
[-]
[-]
Q. I don't want my logo on my custom New Era item. I might just want some block text embroidered on it. Is that possible?
Yes, absolutely. Simply visit our online Design Studio and create artwork using text only. You can choose from different block fonts, along with other fancy and script fonts. There's no setup fee or conversion process required for any embroidered logos that you create in our Design Studio.
[-]
Personalized New Era Apparel & Accessories Stitched by Experts
[-]
At Corporate Casuals, we've been stitching brand-name embroidered apparel for over 35 years with thousands of satisfied customers. Our production facility in Concord, Massachusetts, has the best industrial embroidery machines around and operators with decades of experience. The bottom line? Your New Era items will look great!
[-]