Custom Embroidered Towels & Robes Quick Start Guide
[-]
Promotional towels and embroidered robes are great items to give (or sell) to employees, clients, event attendees and tourists. That's because these items get kept and used for years, creating a tangible connection to your brand and seen thousands of times. (There's no other advertising medium that comes close to a logoed promotional item.) Plus, towels and robes are durable items that can last up to 10 years.
The great news? We offer an unmatched selection of high-quality towels and robes in a variety of styles, sizes, eye-catching colors and stripes, and super-soft fabrications. Embroidered towels and personalized robes are functional and fun. You'll love our selection of affordable styles.
[-]
Our Top-Selling Towel Styles
[-]
When you choose any of our custom towel styles, you'll get great brand exposure every time they're used. They're one-size-fits-all gift items that people reach for all year long, although they're especially great for resorts and summer promotions. Lots of our corporate clients also give high-quality embroidered towels with monograms as a milestone gift for anniversaries, hitting sales goals, mothers day, and more.
[-]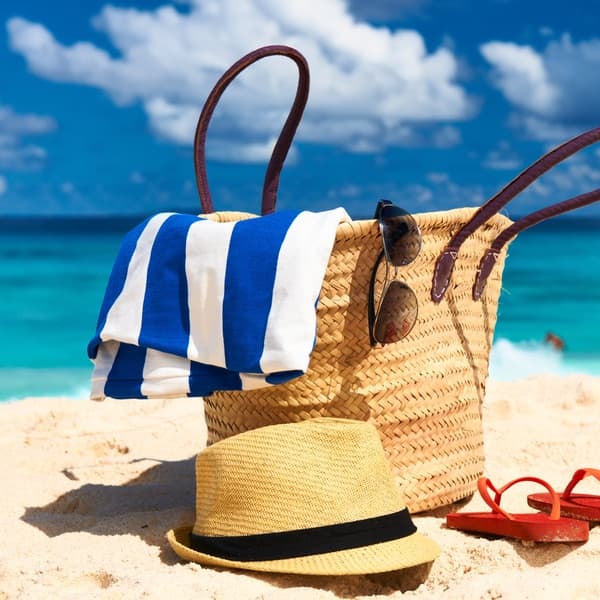 Beach and Cabana Towels
Beach towels with your brand name or logo are amazing promotional items that can get hundreds or thousands of views over their lifetime. Your employees or customers will love receiving a gifted embroidered towel they can use after a dip in the pool or ocean, or taking a shower. We've got lots of lightweight, fully hemmed (for durability) beach and cabana towels that don't skimp on lofty, pure cotton softness. Plus, if you add an executive's (or top client's) monogram to these towels, they'll continue to be reminded of your brand.
[-]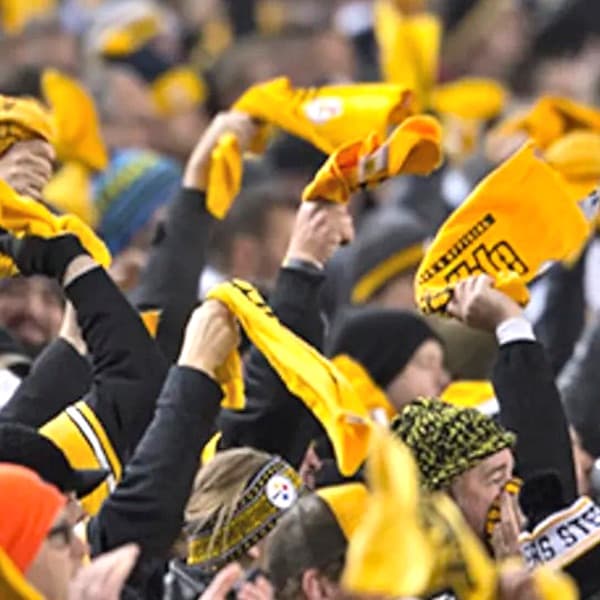 Rally Towel
These fun towels let recipients show their team spirit whether they're in the field or in the stands. A tried-and-true fan staple and American sporting events, fans love to wave them in support of their team and then take them home as physical reminders of the game. And for you sports nerds, the prototype of the modern rally towel was created in 1975 by former Pittsburgh Steelers radio broadcaster Myron Cape, and is known as the Terrible Towel. Of course, you'll add your team's name or mascot to your rally towel.
[-]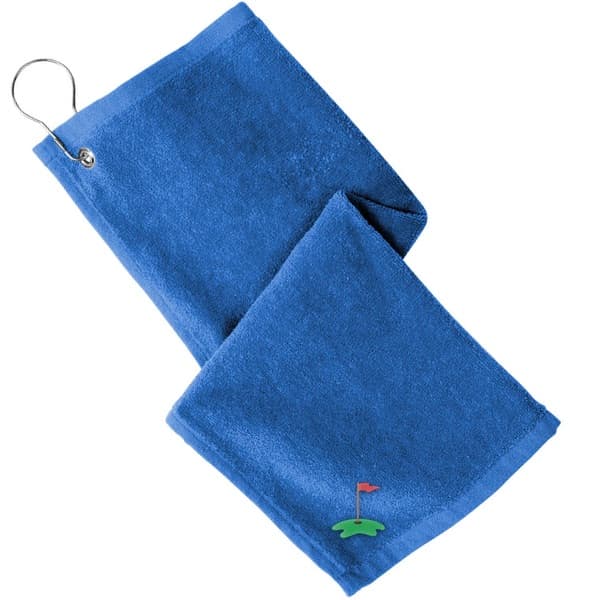 Golf Towels
Since lots of companies hold golf events, an embroidered golf towel is a thoughtful gift. You can keep your hands, clubs and golf balls cleaner with these lightweight, ultra-absorbent towels. Did you know that drying clubs can help reduce the risk of rust build-up? And wiping down your club can help improve your grip and your score. Many of our golf towel styles feature metal grommets and hooks, so golfers can easily fasten them to their belt or golf bag for convenient hands-free carrying.
[-]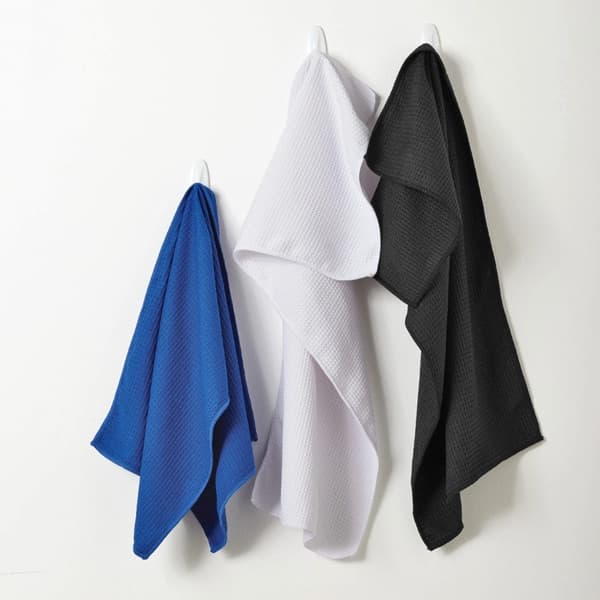 Microfiber Fitness Towels
Since so many of us focus on our health and fitness, microfiber fitness towels are great giveaways for gyms, spas and for travel. They're ultra-light, quick-drying and absorbent, and fully hemmed for durability. Your recipients will enjoy a fresh and enjoyable exercise or spa experience.
[-]
The Anatomy of a High-Quality Custom Towel
[-]
Guess what else we love about promotional towels? They're a great unisex gift or item to sell. You don't have to deal with the guesswork or hassle of buying different sizes for different people. In fact, we like to say that embroidered towels are one-size-fits-all.
Plus, custom personalized bath towels offer you a lot of space for your branding or message for a high-visibility impression. Towels offer lots of options for customization, and they come in lots of sizes, colors and stripe variations so you can find one that fits your brand, team or event. Once you've selected your towels, we'll imprint them with your brand name or logo.
If you want to find your way around a custom embroidered towel, here are the five basic parts of a towel.
[-]
Pile Area

The biggest area of the towel is called, you guessed it, the pile area. This area determines the towel's quality, based on the style and the thickness of the weave (like waffle, gauze, lattice and ribbing). The pile area can have different performance properties: absorb liquids better, dry more quickly or repel dirt.

Selvage

The selvage, made with a simple weave to reinforce the towel edges, runs along the entire length of the towel on either side. While you probably don't notice the selvage, since it's between ¼" and ½" wide, it has the important job of keeping the towel from unraveling.

Beginning and End Parts

These parts seal the top and bottom of the towel. They can feature special weaves and patterns that complement the pile area design. However, the larger the beginning and end parts, the smaller the pile area (where your logo or name goes).

Border

The border helps prevent fraying, adds a spot for branding, and helps a person who's stacking towels to match them quickly. Like the beginning and end parts, a border often has a different texture or hue from the pile area.

Fringe

Some towels have decorative fringes on the ends, ranging from thick bundles of yarn to a thin fringe. However, towels with a complex fringe often need special care to keep them in good shape.
[-]
Fun Facts About Towels
[-]
Have you ever wondered how the towel came to be? Check out a few of the major milestones on the custom towel's timeline.
[-]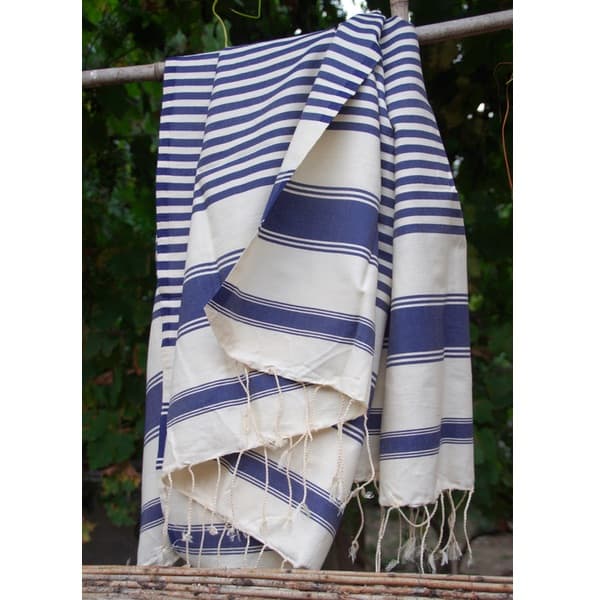 Born in the 17th Century
Thank the Turks for the towel! Back in the 17th century, historians say the Turks were among the first to use them. These lightweight and absorbent towels were called peshtamel. These towels were flat-woven, hand-tied and made of luxurious Turkish cotton, linen or silk.
[-]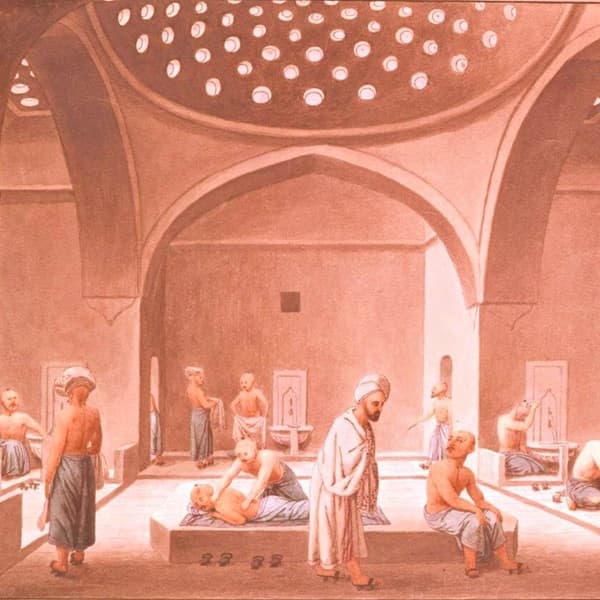 Center Stage at Ceremonial Baths
The Turks used towels as ceremonial items for rituals that purified the body and mind. For example, they used super-absorbent bath sheets to dry every part of a bride's body after her pre-marital bath. Since the Turks used high heat and humidity in all of their baths, these lightweight towels made it easy to clean and dry the body.
[-]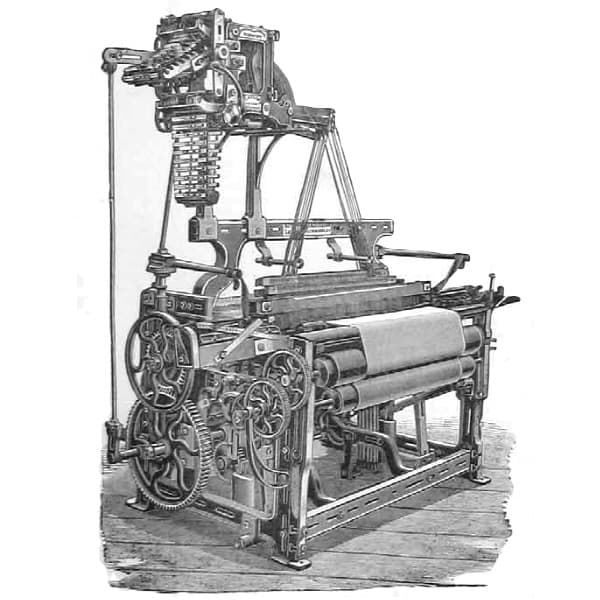 Luxury Items Reserved for the Rich
Of course, back in the day, hand-woven towels were costly, so only the well-off could afford them. During the industrial 1800s, however, companies started mass-producing towels with machines, so they quickly became a favorite and useful household item.
[-]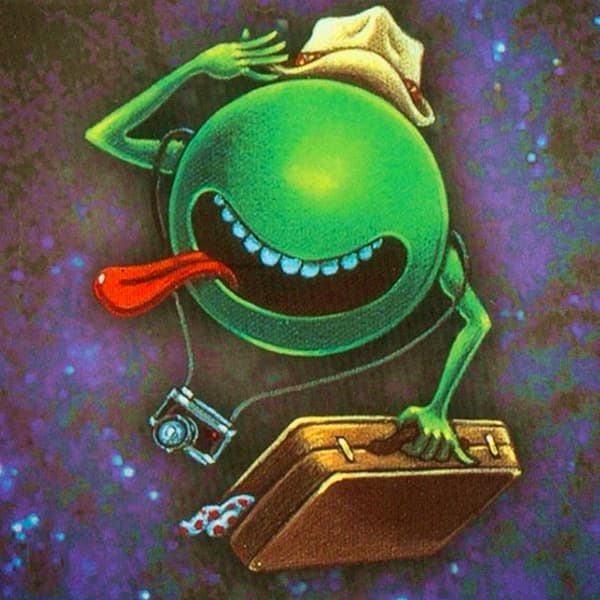 Do You Celebrate National Towel Day?
Douglas Adams, author of "The Hitchhiker's Guide to the Galaxy," waxed poetic about towels: "A towel is about the most massively useful thing an interstellar hitchhiker can have. Partly it has great practical value…you can wave your towel in emergencies as a distress signal, and of course, dry yourself off with it if it still seems to be clean enough." Two weeks after Adams left this planet on May 11, 2001, people celebrated the first National Towel Day on May 25—and it's been celebrated every year since.
[-]
Your Burning Questions About Custom Embroidered Towels and Robes, Answered
[-]
Q. I've never bought embroidered towels or robes before. I only have a small image of my logo. Will that work?
Yes! It's so easy you'll want to do it again and again! All you need to do is upload it into our Design Center, and we'll take it from there. Our embroidery specialists have converted more than 100,000 corporate logos into stitch-ready files, so you can be confident that your custom towels or bath robes will be an excellent representation of your brand, school, team, resort or event. If you have any preferences on the logo size, colors or location on the embroidered towel or robe, just add them in the notes sections.
[-]
Q. So you need to "convert" my logo into an embroidery file first before you embroider it on my custom towel or robe. What exactly does that mean?
When you upload an image or logo for us to embroider on your towels or robes, we convert it to an embroidery-machine-friendly file so we can stitch it out on our machine. (This conversion process is also called digitizing.) For the best possible results, we digitize your custom logo or artwork by hand. The talented embroidery artists on our Corporate Casuals design team use the most up-to-date digitizing software to develop a stitch file that will result in the crispest, best-looking embroidery. Even when you run artwork through the software's auto-digitizing function, you still won't achieve the same level of quality that our artists do.
[-]
Q. How do I choose the right thread colors for my logo?
Extra points for a great question! The thread colors you choose for your logo is one of the most important decisions you'll make during your ordering process. Most likely, you're working with specific colors your company (or school, team or resort) has selected to represent your brand. If that's the case, you'll generally have access to your brand's Pantone Matching System (PMS) colors. We can easily match our embroidery thread colors to your brand's exact PMS colors at no charge, so your logo on your custom embroidered towel or robe is 100% on brand.
[-]
Q. I might not want my logo on a hand towel or robe. I might just want some block text embroidered on it. Is that possible?
Yes, absolutely. Simply visit our online Design Studio and create artwork using text only. You can choose from different block fonts, along with other fancy and script fonts. There's no setup fee or conversion process required for any embroidered logos that you create in our Design Studio.
[-]
Custom Embroidery Locations on Your Custom Towels
[-]
Beach or Cabana Towel

The default location for an embroidered logo on a beach towel is the bottom lower right-hand corner. You can special request an alternate placement on the bottom center or bottom left-hand corner.

Tri-Fold Golf Towels

The default location for an embroidered logo on a grommeted tri-fold golf towel is the bottom center on the grommeted middle fold.

Other Grommeted Two-Fold Towels

The default location for an embroidered logo on a grommeted two-fold towel is the bottom center on the left-hand grommeted fold.

Left-Chest On Robes

The default location for an embroidered logo on a custom robe is the left chest. If you don't have a logo, we can stitch your company name or a message on the robe's right chest.
[-]