Corporate Casuals has a great selection of custom embroidered flexfit hats. All our hats are hand-picked by experts, so you know your logo will look great on them. We offer brand names like Nike, New Era, Under Armour, and more. You can design a custom hat online using our design studio or upload your business logo, and we will turn it into stitches. We have no minimum order so that you can buy one or one thousand custom hats, and we can handle it.
What are Flexfit Hats?
Flexfit is a genericized trademark similar to bandaid. It's a brand trademarked by Yupoong that has become ubiquitous, and all hats with elastic closures are called flexfit hats. There is a multitude of manufacturers and suppliers of the very popular flexfit-style hats.
We decorate flexfit hats by adding custom embroidery to various locations on the hat. We can also supply personalized hats with employee names, company phone numbers, or even a web site address.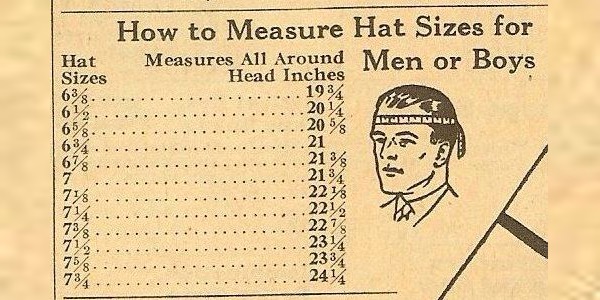 At One Time ALL Hats Were Custom
Before flexfit technology existed, hats were sized similarly to shoes with sizes ranging from 21? to 25¾ inches in circumference. This size range was broken into 12-14 sizes with each size getting progressively larger just like shoes. Back in the day, all the hats you could purchase were customized to your exact head size.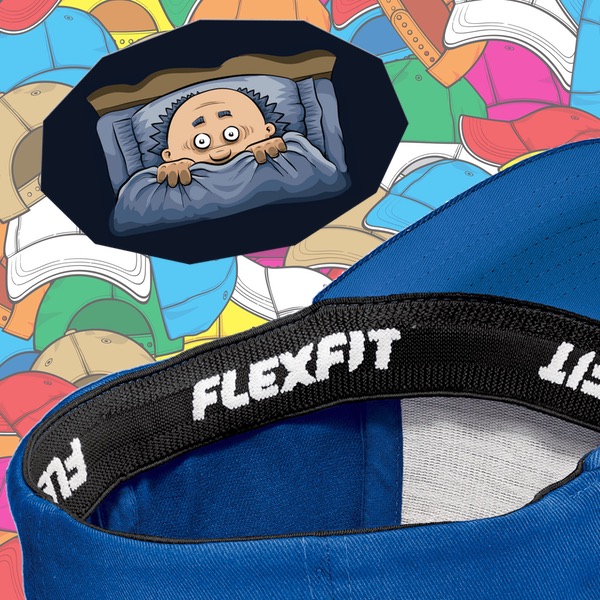 Thankfully Flexfit Hats Were Invented
Having to stock 14 different hat sizes was a shop keepers nightmare, and fortunately, adjustable hats were invented. Now the hat retailer could stock more colors and styles to provide a better selection of hats for their customer. Since flexfit adjusts to more sizes than traditional fitted hats, the customer gets a better fitting hat as well.
The closure for a flexfit hat is an special elastic band inside the hat that stretches to accommodate various head sizes. Hat panels are also made from a form-fitting material which allows the hat to fit more comfortably. Yupoong has patented this technology, you can read
their patent
if that kind of thing interests you.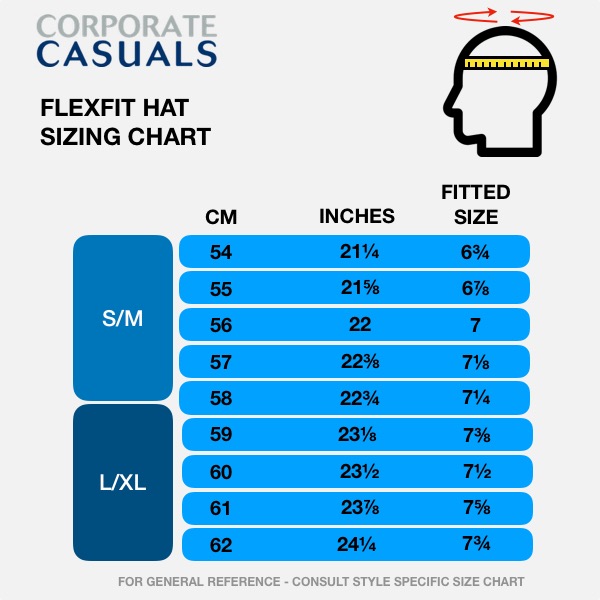 Flexfit Hat Sizing
Custom flexfit hats generally come in 2 sizes (S/M and L/XL) for small and large heads. Use the size chart to determine which hat is most suitable for you. Be sure to visit the specific size chart for your style. Some hat brands may come in slightly different sizes so you need to check before you buy.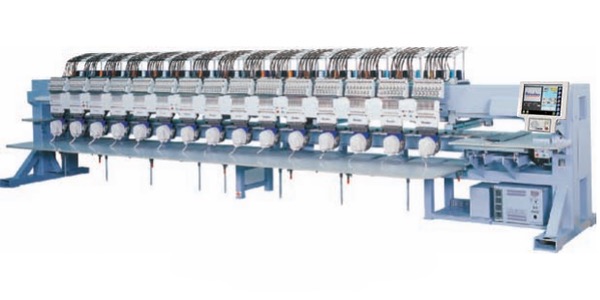 You Need Good Embroidery Machines To Run Hats
We have over 100 heads of embroidery machines and can handle orders of any size. Our embroidered hat production workspaces are equipped with brand new Barudan machines and the latest hat hoops to ensure the highest quality embroidery. Our production staff is provided with a state-of-the-art information system including iPads to ensure the accuracy of your custom hat order.
Our Transparent Pricing Means No surprises
Many embroidery websites play games with the price of embroidery...We don't! You will not find limited time offers, coupons, first-time buyer deals, or any other gimmicks you commonly see. Instead, we offer low prices and break out all the costs right in our shopping cart. When suppliers offer items on sale we pass those prices on to you. Let's have a look at the items that those other guys hide in their "all-inclusive" pricing:
The Hat

Our site clearly shows prices for our custom hats. We offer discounts at 12, 48, 100, and 300 units.

Logo Application

Embroidery machines stitch about 600-1000 stitches per minute. An average logo takes about 7 minutes to sew. Our machines can stitch eight custom hats at a time.

Logo Setup

Sometimes called digitizing. We convert your logo to a Tajima DST file so it can be stitched. Our online proofing tools let you approve the logo from your computer.

Shipping

There is no such thing as Santa Claus, the hat fairy, or free shipping no matter what anyone tells you. We use UPS or USPS at our discretion to get your custom hat order on your doorstep ASAP.
Why do we break out our pricing? Simple, it puts you in control of the cost. If you need to shave a few dollars off the order to stay on budget, you can pick a logo with fewer stitches. Or you might choose a less expensive hat. If you are close by you might save shipping costs by picking up your order in person.