Who Invented the Hat?
The short answer is no one knows, or likely even cares. The long answer is the first drawing of a man in a straw hat was discovered in an Egyptian tomb dated to 1300BC.

Since we are living in 2019, a better question might be where did the modern baseball/golf cap come from? Well, in 1860 a amateur baseball team the Brooklyn Excelsiors wore caps that resemble modern baseball hats. Their version featured a rounded top design and long visor with the telltale button on top.

Over time, the design of baseball hats has been improved to provide greater utility, comfort, and appearance. By 1954 New Era was producing colorful and comfortable hats for professional baseball teams. Soon thereafter, decorators began producing embroidered hats for uniforms and as promotional items, although the embroidery machines of the time were very crude.

In the 80's fashion became more important to music artists as music video's became popular. Fans could now see how their favorite musicians dressed and the music industry began setting fashion trends. Baseball hats were popular with musicians in the rap and hip-hop genre. As a result, baseball hats made the transition from sports to everyday use.


Hat picture from the Egyptian tomb of Nebamun 1300BC from the collection of the British Museum

The Brooklyn Excelsiors were an amateur baseball team credited for using baseball hats as part of their uniform

Baseball hat from 1890's Harvard University baseball club
What Hat Styles are Suitable for Embroidery?
Originally, baseball hats were "fitted" meaning they came sized to match the exact diameter of your head. Typically there are 14 sizes of baseball hats to fit heads from 20 to 25 inches in diameter. By the early 70's adjustable fit baseball hats came into production. Adjustable baseball hats allow for a more precise and comfortable fit and the retailer did not need to carry 14 sizes! Adjustable hats are very important as promotional products and uniforms since you can buy a single size and provide a perfect fit for everyone.

There are three common varieties of hats that are decorated with an embroidered logo:

Flexfit Hats
Flexfit hats
uses an elastic band to adjust the size of the hat. The flexfit technology can only adjust between 1/2 to 5/8 of an inch so five sizes are needed to cover the range of human head sizes. To accommodate the promotional products industry they also produce a "One Size Fits All" OSFA version. The OSFA will fit the majority of the population fairly well (90%+). If you have a smaller head the OSFA option may not provide an optimal fit and you may want to try a youth or ladies specific hat. Size charts are provided for all the hats we sell so you can make sure you are getting the best fit.

Traditional Adjustable Baseball Caps
Adjustable baseball hats are sold as "One size fits all" OSFA and use an adjustable strap in the back to set the size. Generally OSFA hats can accommodate 21 5/8 to 23 7/8 head circumference. A small number of people have heads that are outside this size range.

Trucker Hats
Trucker hats
are generally constructed with a foam or twill front and a mesh back with plastic adjustment straps. You can pick them out easily since they do not have a center seam on the crown since its all one panel. They are popular in warm climates as the foam wicks away sweat and the mesh back provides outstanding ventilation and protection from the sun.

Beanies
Beanies
are essentially the hats that mom knitted for you in the good old days. Beanies are also constructed from fleece and other high tech performance materials.
What Materials are Used to Make Embroidered Hats?
Hats are made from a variety of natural and synthetic fibers. Here are some of the most common modern materials used in hat construction:
Cotton Twill & Cotton Blends

This is probably the most common material used. Cotton can also be blended with polyester to produce fabrics with different performance characteristics.

Wicking Fabrics

Popular in golf hats wicking fabrics are designed to evaporate moisture quickly so you keep cool and dry.

Mesh Fabric

Mesh is a typically made from polyester and woven with large holes to provide maximum ventilation

Fleece

Fleece is a lightweight, warm, and soft fabric invented in 1979 in nearby Malden Mills, MA. It holds less than 1% of its weight in water so it retains its insulating qualities when wet.

Acrylic Yarn

The most popular fiber used to make hats. Its less expensive than wool, more stain resistant, and easier to clean. Acrylic does not breathe well so it could make you sweat during strenuous activities. It's best feature is that it holds dye well and will still look great after repeated washings.

Wool

Natural animal fibers commonly made from sheep. Fibers from goats and alpaca are also used to make hats. Wool's ability to retain heat even when weight is unmatched. You do need to wash it in cold water and line dry wool to prevent shrinkage.
What are the Parts of an Embroidered Baseball Hat?

Panels
Baseball hats are constructed from panels of fabric. A typical baseball hat is made from six panels stitched together. This configuration leaves a vertical seam on the wearers forehead and any logo embroidered on the front. Some companies produce a 5 panel hats which eliminate this seam. Many embroidered golf hats use a five panel construction.

Bill or Brim
The hat bill keeps the sun out of your eyes and rain off your face. It is constructed by stitching fabric over a plastic form. There are two kinds of bills flat and curved depending the shape of the plastic form used.

Crown
The crown is the 5-6 panels stitched together to make the top part of the hat. Crowns are typically structured and unstructured. A structured crown is one that has been specially reinforced with buckram fabric or plastic inside the panels to help keep the crown's shape. An unstructured crown has no reinforcing material as a result the hat does not hold its shape. Crowns come in three different profiles or heights, short, medium, and tall. The larger the profile the easier it will be to stitch your embroidered logo. If you have a very large logo its best to select a tall profile hat.
Low Profile Crown

High Profile Crown

Structured Hat

Unstructured Hat

Eyelets & Mesh
There is typically one eyelet stitched into each panel. Eyelets are generally used to provide ventilation and as a stylish feature. Hats made from performance wicking fabric or mesh may omit the eyelets.
Embroidery Nerd Alert!
Baseball Hat Button or Squatchee (Squatcho)
The button on top of a baseball hat is used to cover and attach the points of the hat panels. It is made from metal or a plastic form covered in cloth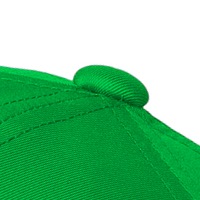 .

The term Squatchee (or Squatcho) was popularized in 1983 by American baseball sportscasters Bob Brenly and Mike Krukow who both played for the San Francisco Giants. Mike Krukow saw the term squatcho used in a book book (Sniglets) written by comedian Rich Hall while standing in the supermarket checkout line.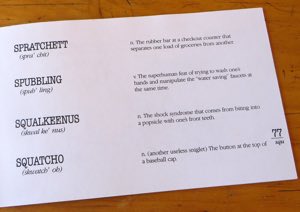 The words Squatcho and Squatchee were used interchangeably in broadcasts when referring to the little button on the top of your baseball hat. Yes you just wasted 30 seconds of your life reading about the little button on top of your hat!






Cuff & Pop-Pom
Beanie style hats may have a cuff where the hat is folded onto itself. The purpose of the cuff is to provide greater warmth for your ears by using a two layers of knit fabric rather than one.

The word Pompom is first used in 1875, it is derived from the French word pompon, which referred to what we would think of as a modern pompom. There does not seem to be any practical use for a pompom. Some speculate it was used as a method to hide poor workmanship as the peak of the hat can be tricky to knit. Others say it was just used for decoration and point a statue of the Viking god Freyr who had a helmet with a pompom on it. And yes you have wasted another 30 seconds of your life...

Accents
To give a stylish look to baseball color accents are used. For high visibility hats accents are typically made from retroreflective material so they can be seen in the dark. Many kinds of accents are used in baseball hats:

Panels - Different colored panels are used or even panels with stripes

Brim - The brim is sewn with two contrasting colors of fabric

Thread - Contrasting colors of thread are used to stitch the hat together providing a subtle accent

Logo's - Brand name hats like Nike or Carhartt will apply a small logo as a brand mark on the hat

Embroidery - When possible, we try to match the accents colors to a customer's logo embroidery


What Methods are Used to Size Adjustable Baseball Hats?
There are three methods used to adjust the size of OSFA baseball hats. The first is a leather or cloth strap with a metal or plastic buckle. The next method uses a plastic strap with snaps spaced 1/8 inch apart some people call this fastener a "strapback". The last method uses hook and loop material to provide infinite adjustability.

Strap & Buckle
Pro's
» Infinite adjustability
» Metal buckles look great

Con's
» When worn out the strap can slip causing the hat size to grow larger and you lose your hat in the wind
» The end of the strap needs to be tucked into the hat for some styles which is a pain
» Leather straps can shrink after repeated wet/dry cycles
» For larger heads the strap cannot be tucked into the hat and looks goofy with the tail of the strap flapping around



Hook & Loop Velcro
Pro's
» Holds adjustment very well over time
» very rugged

Con's
» Smaller head sizes you may have a small "tail" that will not tuck in anyplace
» Repeated adjusting can degrade the hook and loop material


Plastic Snap (Snapback)
Pro's
» Easy to adjust
» Adjustments are rock solid
» Inexpensive
» Can be color matched to hat

Con's
» Cheap looking...but hey its a hat after all
» Plastic degrades in sunlight and can snaps can break in cold weather
» For larger head sizes you can only use 1 or 2 snaps which can lead to breakage


How do you Embroider the Logo on a Baseball Hat?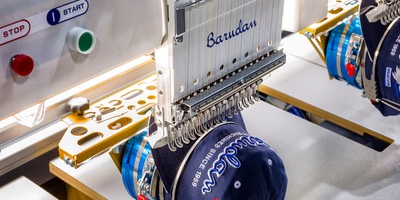 The most popular decoration method for hats is embroidery. Specialized industrial sewing machines are used that can produce one to fifteen hats at a time. These machines can lay down over 1000 stitches per minute which is so fast you barely see the needle moving. Since hats are curved the hat has to be rotated at the same time it is stitched. Producing consistent high quality embroidered logo's on hats requires top notch machinery. Corporate Casuals uses machinery made by Barudan which is considered the best in the industry. We recently purchased two new Barudan machines specifically for running hats.

The most popular thread used for machine embroidered logo's is made from a material called Rayon.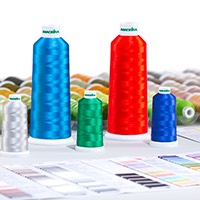 It has bright colors and the most attractive sheen. Polyester thread is also used by some embroidery shops because it breaks less in production and is cheaper generally but we feel that Rayon provides the best look and color for embroidered logos. The exclusive thread provider for Corporate Casuals is Madeira USA we stock their classic 40 weight Rayon colors.
Logo Size
What is the Maximum Size for an Embroidered Logo on a Hat?
Baseball Hat Front

The front of a baseball hat is limited to a logo 2.25 inches tall. We try to limit the logo width to 4 inches but we do stitch 5 inch wide logo's when appropriate.

Baseball Hat Side

The side of a baseball hat can accommodate a 1.25 inch square logo on either the right or left side. Depending on the hat construction we can sometimes go a bit larger.

Baseball Hat Back

Baseball hats with strap closure we apply a 3 inch by 1 inch logo. The logo is typically arched over the opening on adjustable hats. Flexfit hats allow for larger size logo's and the logo does not need to be arched.

Beanies With a Cuff

Beanies that have a cuff are limited to 2.25 inch tall logo's. We try to limit the logo width to 4 inches but can go a bit larger if needed.

Beanies Without Cuff

Beanie hats without a cuff provide the most decoration space of all hat styles. We can embroider a 3 inch tall by 4 inch wide logo with room to spare.

Visor Front

Visors provide very little room for decoration. We can stitch a 1 inch tall by 4 inch wide logo.
How do I Pick the Right Colors for My Embroidered Logo?
The selection of colors for the hat and logo is the most important decision you will make. If you are working with a logo that has brand colors then generally you will have access to the brands PMS colors (Pantone Matching System). We match embroidery thread to PMS color at no charge.

If your goal is maximum visibility to potential customers then you want to use thread colors that contrast strongly with the color of the hat. Some customers prefer a subdued look and opt for a "Tone on Tone" design where the hat color and logo color are a shade off. Embroidery is a unique decoration method, in that even non-contrasting logo's can still look great. The threads we use reflect light in a unique way and the three dimensional nature of embroidery allows your logo to be seen easily. We also offer what we call color-on-color where we match the hat color exactly which gives the logo more of an engraved look.

Strongly Contrasting Colors
For dark hats you would use a light colored thread and dark hats a light colored thread. The trick part is when the color of the hat is mid toned like red or green. Depending on the shade you might want a light or dark colored thread.

Our online proofing system can help you to decide what thread color to use. All the logo's shown on this page were rendered using our proofing system.

Tone On Tone Design
For "Tone on Tone" designs we recommend the thread color be one shade lighter or darker then the color of the hat. A really nice look for accented hats is to have the logo color match the accent colors.
Are There any Restrictions for Embroidered Logo's?
Embroidery is a great decoration process but it does have some limitations you need to consider:
Text Lettering Size

Very small text is not easily reproduced with embroidery since we use a zig zag or satin stitch to make the letters (see embroidery 101). Its best to keep all text 1/4 inch or taller for best results.

Avoid Shadows and Gradients

The best looking embroidered logo's have solid colors and limited small details. Customers with small complex logo's may need to simplify the logo to look good. Don't worry, we're happy to help with this.

Avoid Outlines and Fine Lines

Outlined text must be 3/4 inch or taller. Very fine lines generally do not come out well.

Logo Symmetry

The top part of this logo is off center. Stitching it on a hat really makes it stand out. Symmetrical logos look best on hats.

<!?ROIE?> <!?ROIB?> <!?ROIE?>