Custom Embroidered Hoodies Quick Start Guide
The streetwear and athleisure markets have exploded over the past couple of years, and we know customers want much more than just a classic hoodie or sweatshirt. You deserve to find the perfect embroidered hoodies and pullovers, custom designed for your exact branding specifications with no minimum order size. Plus, our corporate customers (like you) love the idea that 6,100 potential customers see their logo neatly embroidered on a custom hoodie that gets worn all year long as a layering piece.
The great news? We offer an unmatched selection of high-quality hoodies in a variety of on-trend styles, eye-catching colors and patterns, flattering fits, silhouettes and super-soft fabrications, performance features, even heavyweight hoodies for the job site. Embroidered sweatshirts and hoodies are warming, functional and fashion-forward. You'll love our selection of affordable styles, along with retail pieces from top brands like Carhartt, Champion, New Era, Under Armour and more.
The Anatomy of a High-Quality Custom Hoodie
Obviously, a hoodie is a type of sweatshirt that features a hood. Since a custom hoodie is meant to be worn as a layer or outerwear, the hood offers an extra layer of warmth and protection against the cold, wind or other unpleasant weather elements. Some of these sweatshirts even have a different color or pattern inside the hood to add some cool contrast and interest.
If you want to find your way around a custom embroidered hoodie, here are the most common elements you'll find in these popular garments.
Hoods & Drawstrings

A drawstring is used in sweatshirt hoods to help them fit snugly, and they're also fashion elements. Drawstrings can be dyed to match the hoodie color, or can be a complementary hue. Sometimes, apparel manufacturers add cool hardware at the drawstring ends for added flair.

Kangaroo Pockets

Many custom embroidered hoodies also feature a large pocket or pockets at the front so a wearer can carry items or as a place to keep their hands warm.

Zippers

Of course, zippers are functional on custom hoodies, whether it's a quarter-zip or full-zip. However, lots of designers like Louis Vuitton and NikeCourt also use zippers as fashion details, whether they're reverse color or placed on the sides or around the hood.

Elastic Cuffs and Hems

Hoodies are designed to be cozy, layering pieces, so a comfort-fitted waistband and cuffs keep heat close to your body.
Embroidered Hoodies as Unique as Your Brand
At Corporate Casuals, we're big believers in one-size-doesn't-fit-all, so we offer an unmatched selection of custom hoodies so you can find exactly what you need. Once you choose a style you love, you can easily design a personalized hoodie in our online Design Studio. Or, you can upload your business or team logo and we can turn it into a stitched logo for a small setup fee. Our experts hand-picked these hoodie styles for their fashion-forward functionality and the fact that they embroider well. That means your employees (or fans) will wear these custom sweatshirts at every opportunity, getting you thousands of brand impressions every season.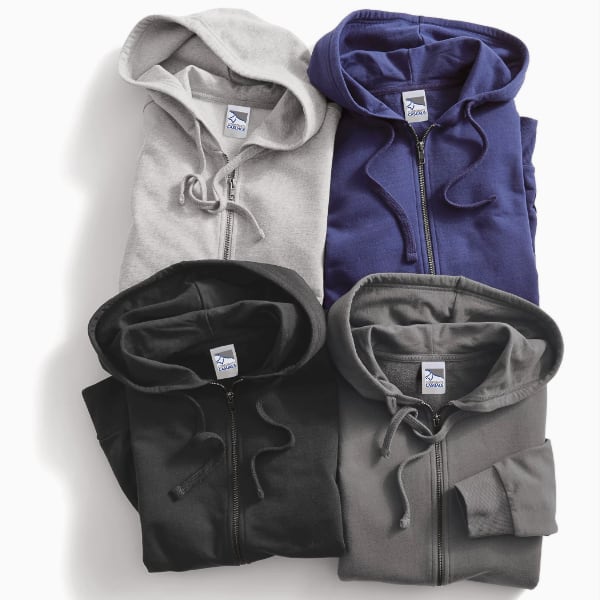 Copious Colors & Patterns
When our customers are looking for the perfect hoodie to represent their brand, color is one of the first and most important aspects. We have many core and fashion colors to match any brand, organization, school, team or event. We also offer color-blocked styles so you can have your brand color and a little eye-catching contrast too.
Of course, we also carry on-trend patterns like camo and tie dye to fit specific demographics and special events.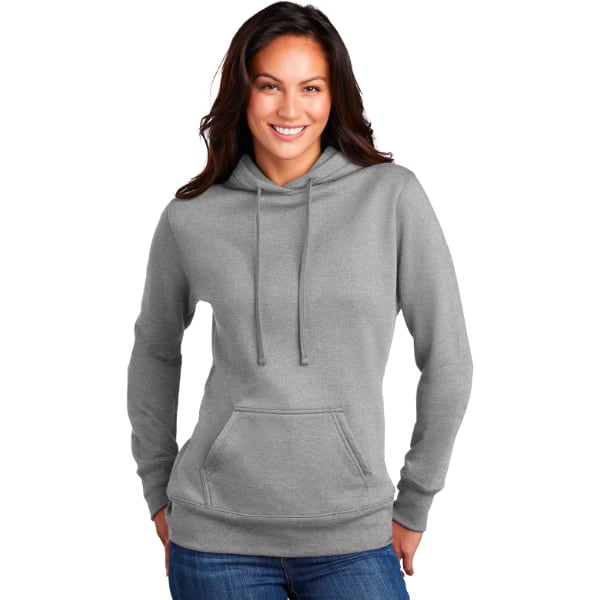 Flattering Silhouettes & Fits
When you browse our custom designed sweatshirts and hoodies, we know you want to pick styles that fit and flatter real people. You'll find men's, women's and youth styles, specifically tailored to fit every body type. A recent apparel trend is unisex styles that often have oversized or relaxed fits. (For example, BOBBLEHAUS and BELLA+CANVAS both launched entire lines of genderless streetwear styles.) We stock these on-trend pieces for every wearer, which also have modern details like drop shoulders and longer hemlines.
Full of Fabrications
Everyone's got their favorite fabric, so of course, our custom hooded sweatshirts come in a variety of lightweight, heavyweight and textured fabrics. In addition, if you're committed to reducing your brand's carbon footprint, you can pick a pullover made of recycled materials or other eco-friendly fabrics.
Here are a couple of fabric types that you might be new to (but will love):
French terry is a knitted fabric that contains loops and soft yard piles on one side and a smooth, soft material on the other. These pullovers are lightweight, absorbent and moisture wicking. Plus, you can move freely in a French terry hoodie, so they're great for all types of activities. This fabric is great to wear from summer into fall.

Sponge fleece is opulently soft, and is a fabric with great stretch and recovery. This midweight fabric, which has a brushed, plush inside, can be worn all year round, whether alone or as an extra layer.

Finally, don't overlook our performance fleece options with moisture-wicking and rain-protective properties.
Retail Brands
As we mentioned, we're a one-stop shop where you can get high-quality embroidered sweatshirts and hoodies from coveted brands like The North Face, Carhartt, Champion, Marmot, New Era, Under Armour and more. You can select great styles from these retail name brands, and we can embroider or print your logo or message artwork on them.
The Hoodie's Exciting Century-Long Journey
Have you ever wondered how the sweatshirt (which later morphed into the "hoodie" version circa 1930) was invented? Check out a few of the major milestones on the custom sweatshirt's timeline.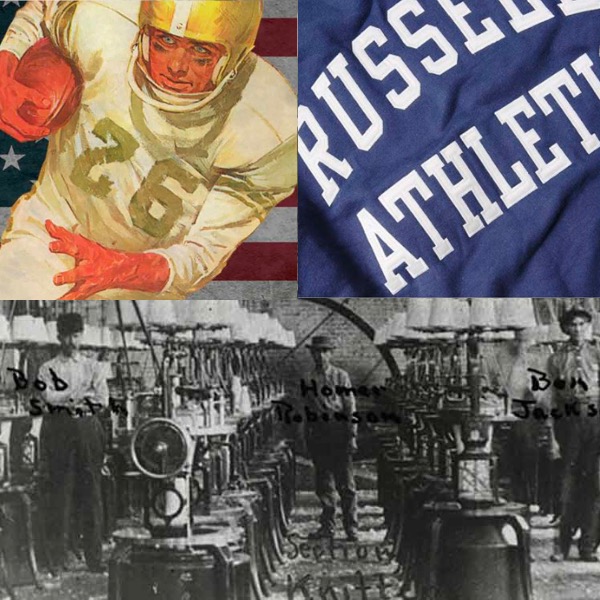 The First-Ever Crewneck
The first crewneck sweatshirt (without a hood) was invented in 1920 by Benjamin Russell, Jr., a football player at the University of Alabama. He was tired of the itchy, hot and downright uncomfortable wool jerseys he wore out on the field. In a flash of brilliance, he asked his father, Benjamin Sr., "What if we replace this awful wool fabric with stretchy fabric that moves with me?" That sparked the now-century-old Russell Athletic Co., and chances are, you've got one of the company's sports-influenced garments in your closet.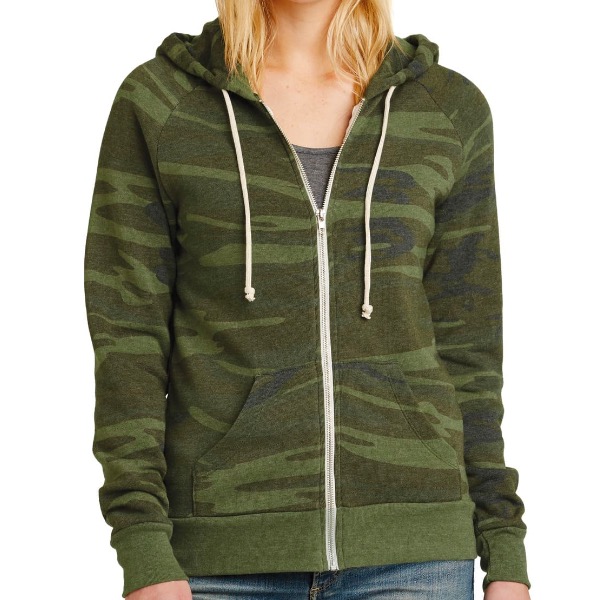 Adding Those Functional Zippers
A natural evolution of the sweatshirt? Adding even more function with zippers. A short length of zipper near the sweatshirt's neckline allows the wearer to remove it quickly. (This type of sweatshirt is called a ¼-zip.) As sweatshirt styles evolved, a wide range of quarter-zip and full-zip styles became popular.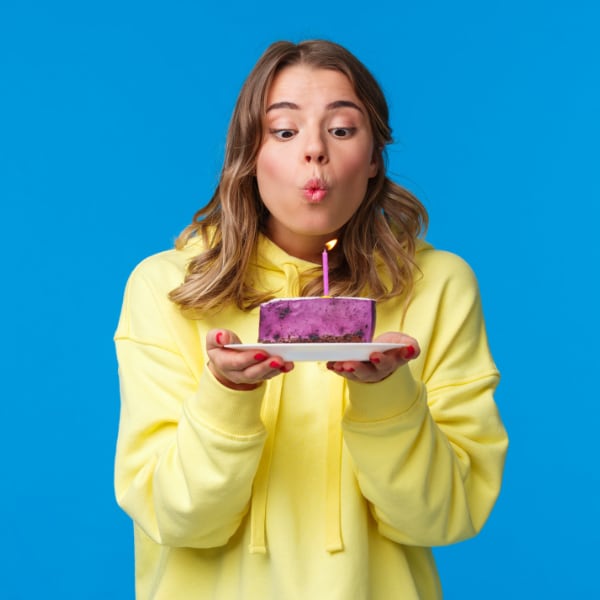 Happy 1st Birthday, Hoodie!
Another big milestone in the sweatshirt's evolutionary timeline happened in 1930. The Knickerbocker Knitting Co. (later renamed Champion Products) added a hood to its crewneck sweatshirts to protect outdoor workers and athletes from cold weather, and the hoodie was born. Champion produced a sweatshirt with a hood and special double thickness material.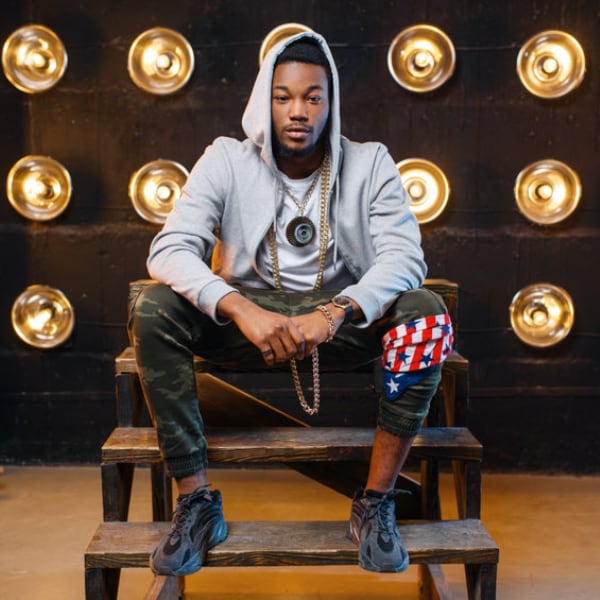 Custom Hoodies as Status Symbols
Since the 1970s, hoodies have been big players on the hip-hop, skate and streetwear scene, which is holding strong to this day. Fun fact: In 1976, the movie "Rocky" increased the hoodie's popularity.
Your Most Burning Questions About Custom Embroidered Hoodies, Answered
Now that you've selected the right custom hoodie style for your employees, students or team members, you probably have questions about how we get your logo or message onto the sweatshirts as eye-catching embroidery. Here are the top things our customer service reps hear about how we stitch your logo on your custom embroidered hoodie.
Q. I've never bought embroidered hoodies before. I only have a small image of my logo. Will that work?
Yes! It's so easy you'll want to do it again and again! All you need to do is upload it into our Design Center, and we'll take it from there. Our embroidery specialists have converted more than 100,000 corporate logos into stitch-ready files, so you can be confident that your custom hoodies will be an excellent representation of your brand, school or team. If you have any preferences on the logo size, colors or location on the embroidered sweatshirt, just add them in the notes sections.
Q. So you need to "convert" my logo into an embroidery file first before you embroider it on my custom hoodies. What exactly does that mean?
When you upload an image or logo for us to embroider on your sweatshirts, we convert it to an embroidery-machine-friendly file so we can stitch it out on our machine. (This conversion process is also called digitizing.) For the best possible results, we digitize your custom logo or artwork by hand. The talented embroidery artists on our Corporate Casuals design team use the most up-to-date digitizing software to develop a stitch file that will result in the crispest, best-looking embroidery. Even when you run artwork through the software's auto-digitizing function, you still won't achieve the same level of quality that our artists do.
Q. How do I choose the right thread colors for my logo?
Extra points for a great question! The thread colors you choose for your logo is one of the most important decisions you'll make during your ordering process. Most likely, you're working with specific colors your company (or school or team) has selected to represent your brand. If that's the case, you'll generally have access to your brand's Pantone Matching System (PMS) colors. We can easily match our embroidery thread colors to your brand's exact PMS colors at no charge, so your logo on your custom hoodie is 100% on brand.
If your goal is for your logo to have maximum visibility to potential customers, then we recommend selecting thread colors that contrast strongly with the color of the custom hooded sweatshirt you've chosen. However, since embroidery is such a unique decorating method, even non-contrasting logos can still look great.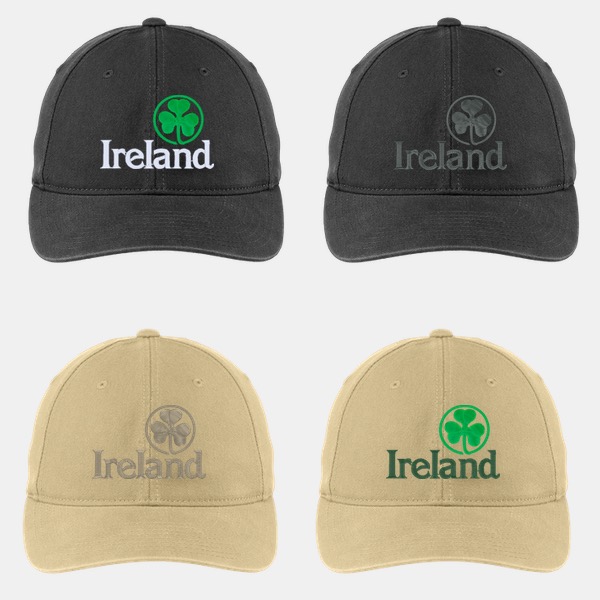 If you prefer a more subdued look, you can opt for a tone-on-tone design where your logo color and beanie color differ by about one shade. We can even do a color-on-color design where we match your logo color to the exact shade of your hoodie. Since we use 3-D threads that reflect light in a unique way, viewers will still be able to easily recognize your logo, which will have a more upscale engraved look.
Q. I might not want my logo on the hoodie. I might just want some block text embroidered on it. Is that possible?
Yes, absolutely. You can start designing in our online Design Studio and create artwork using text only. You can choose from different block fonts, along with other fancy and script fonts. There's no setup fee or conversion process required for any embroidered logos that you create in our Design Studio.
Custom Embroidery Locations on Your Custom Hoodies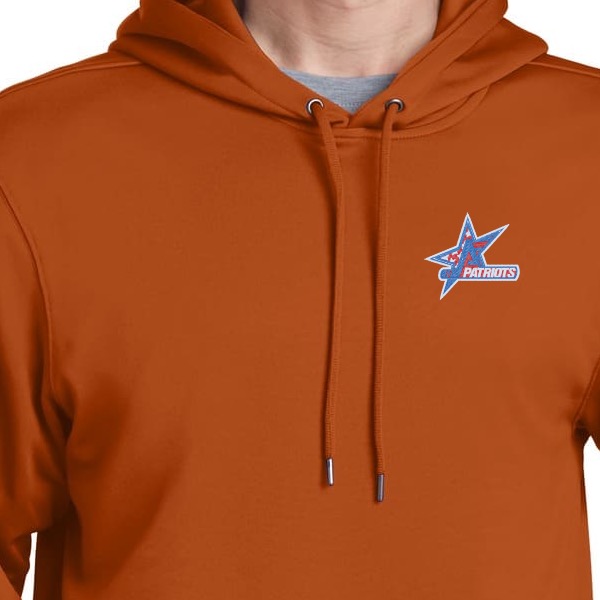 Default Left-Chest Logo Location
The default location for an embroidered logo on a custom hoodie is the left chest. If you don't have a logo, we can stitch your company name or a message on the sweatshirt's right chest.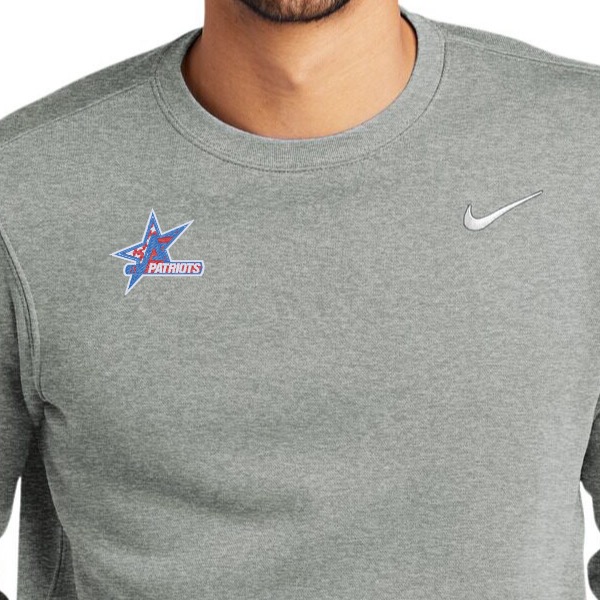 Brand Logo on Left Chest
If the custom sweatshirt or hoodie you choose has a retail brand logo on the left chest, then we'll embroider your custom logo on the right chest. If you require personalization like an employee name drop, then we'll stitch that text under your main logo.