T-Shirt Buyers Guide
T-Shirts became popular in the Unites Stated when they were issued by the US Navy during the Spanish American War. They were designed to be worn under a uniform allowing sailors to remove their uniform jacket in hot conditions, only soiling a single garment. By the mid 1930's the tshirt became the choice of clothing for farming and ranch chores. It finally achieved status as a stand alone garment after Marlin Brando wore one in the movie "A Streetcar Named Desire". By the 1950's tshirts was getting professionally decorated using a variety of techniques.
Tshirt Fabric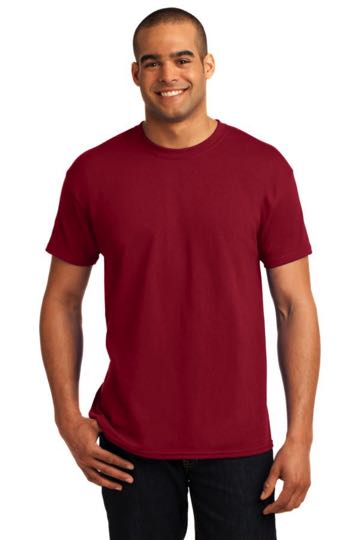 The first specification you will be presented with is the weight of the tshirt fabric. This refers to the weight of one yard of tshirt fabric. The higher the weight, the thicker the tshirt material. Common weights for tshirt fabric are 5.1, 5.5 and 6.1 ounces with the 5.5 ounce being the most popular. Which one is better? The answer will depend on the use of the tshirt. Lightweight tshirt materials are commonly used in some of the more fashionable tshirt styles and they work well in that application. In rugged use environment such as a construction jobsite, you will find that a heavyweight tshirt will be more durable but might be hot in warmer climates.
T-shirt weight is only part of the answer to the question of which is better. The blend of fabric is also a very important part of a tshirt. While 100% cotton tees are very common, many manufacturers blend the cotton with polyester to make it stain resistant, breathable, and less prone to shrinkage. In general, more polyester content produces greater breathability, stain and wrinkle resistance. Blended tshirts also tend to be a bit cheaper than 100% cotton.
Fit & Fashion
When it comes to the concept of fit in the tshirt world, two general categories emerge. For purposes of this discussion lets call them Fashion Tees and Traditional Tees. Fashion tees are cut in a manner that allows the clothing designer to enhance certain physical features of the wearer. Standard tshirts (often unisex) are designed to fit a variety of people comfortably with and still look good. This is an often overlooked consideration when choosing custom tshirts for business or an event. A decorated tshirt is of no use if the recipient can not find a size that fits them well...unfortunately, many of the more fashionable tshirts fall into this category.


T-Shirt Decoration Methods
There are four decoration methods that are commonly used on tshirts: screen printing, iron on transfers, DTG printing, and embroidery. Each method has advantages and disadvantages:
Silk screening
produces designs by depositing ink on the surface of the fabric through a synthetic fabric screen. The result is a logo that you can feel on top of the fabric and that over time will crack and peel as the garment wears out. The process has a practical limit to the number of colors that can be reproduced in the logo, typically no more than six. Setup costs are fairly high so you need to order at least 12 units to make screen printing practical.
Hear Applied transfers
are a thin plastic film that has the desired logo printed on it. The film is attached to the fabric by heating it at application time. As with silk screened logo's, it can be felt on top of the fabric and will crack, peel, and pucker as the fabric wears. Depending on the quality of the material used the puckering can become unsightly. We only recommend heat applied decoration for team athletic names and numbers.
DTG printing
also called "digital printing" or "direct to garment printing" is a recent addition to the our decoration toolbox. It digitally deposits ink on the tshirt fabric the same way your ink jet printer prints on paper. It can reproduce stunning full color images on cotton and some polyester fabrics. The inks used are water based and non-toxic. Since it uses digital technology there is no machine setup required which allows a single item to be produced at a reasonable price. The downside to DTG technology is that inks are expensive and the machines are slow compared to silk sceening or heat transfers.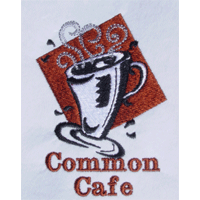 Embroidery
is an excellent decoration process that provides a great looking finished product. It wears well and looks very professional when compared with any of the available printing methods. The design options can be limiting since the design must be reproduced with threads rather than ink. Small details such as lettering can be difficult to reproduce and you are limited to between 9 and 15 colors in the design. Even with the limitations, the results are so outstanding many customers prefer embroidery to any of the other printing methods. More information is available in our free online guide:
How To buy Embroidery.