Polo Shirt Buyers Guide
Since 1933 the polo shirt or "tennis shirt" has become so popular it is now the largest category of apparel next to t-shirts. By the 1990's it became the standard for informal business attire. As its popularity grew, so did the number of styles, colors, and fabrics. Today there are thousands of styles, colors, and fabrics available. Consumers can find themselves confused and misinformed as to which polo shirt will best meet their needs.
Performance Polo Shirts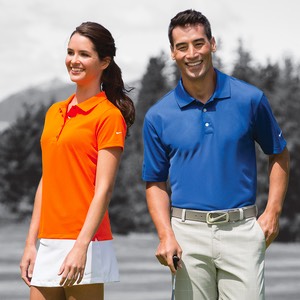 Style# 203690
Ladies Style# 203697 Performance polos are all about comfort and style under extreme conditions. They are popular with golfers, athletes, and employees that need to maintain a casual business appearance while active in hot conditions.

The performance polo shirt category is dominated by high-end brands such as Nike and Under Armour. As a result, you will pay a bit more for these shirts. From a decoration standpoint, performance polo's are an excellent choice for embroidery, but only a limited number of styles are suitable for screenprinting. Popular performance polos include the Nike 203690 Dri-Fit that is UV sun protection rated SPF 30 and the 1261172 Under Armour Men's Corporate Performance Polo.
Blended Polo Shirts
Blended polo shirts are a tradeoff between cost and performance. Blended polo's make great work uniforms due to their reasonable price point, resistance to stains, and their durability.

Like many performance polo shirts, they embroider logos well but are typically not suitable for screen printing. A favorite blended polo recommended by our food service customers is the K500 by Port Authority its reasonably priced, looks great, and starts at around 12 bucks (each) when ordering a dozen!


100% Cotton Polo Shirts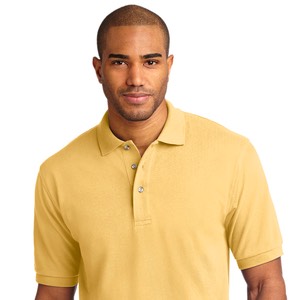 Style# K420 Cotton polo shirts look great and provide excellent comfort. Cotton polo's do have some disadvantages over blended and performance polo's. Any shirt that is 100% cotton can and will shrink. Manufacturers will ship them both preshrunk and a bit oversized to accommodate shrinkage; however, the shrinkage may not always be predictable. A customer that uses a hot water wash and dries in high heat will likely cause a fair amount of shrinkage. Cotton is also prone to wrinkles, and it's not very stain resistant.

There are several different types of cotton and a few different fabric styles. Interlock cotton shirts have a soft, smooth texture. Pique knit shirts are the most common. Some pique fabrics are heavier and some finer, but the type of cotton usually determines this. Combed cotton is the most basic and cheapest cotton. Pique polo shirts with combed cotton tend to be heavier. Pima cotton is usually finer as it is a finer thread. Pima cotton tends to have fewer imperfections/impediments, so it is a finer softer thread than just combed cotton. Our most popular 100% Pima cotton polo style is the Port Authority K420.