Custom Embroidered Blankets Quick Start Guide
Custom blankets are great items to embroider your logo on, and give (or sell) to employees, clients, event attendees and tourists. That's because these useful and indulgent items get kept for years, creating a tangible connection to your brand and getting seen thousands of times. (There's no other advertising medium that comes close to it.) Plus, embroidered and personalized blankets are durable items that can last up to 10 years or more.
The great news? We offer an unmatched selection of high-quality blankets in a variety of styles, sizes, eye-catching colors, plaids and jacquards, and super-soft fabrications. Embroidered blankets, including those stadium and packable blankets that are grab-and-go, are functional and fun. You'll love our selection of affordable styles, as well as higher-end options from Champion and Eddie Bauer.
Our Top-Selling Blanket Styles
Here are some of our top-selling blanket styles that we've got in stock now and ready for you.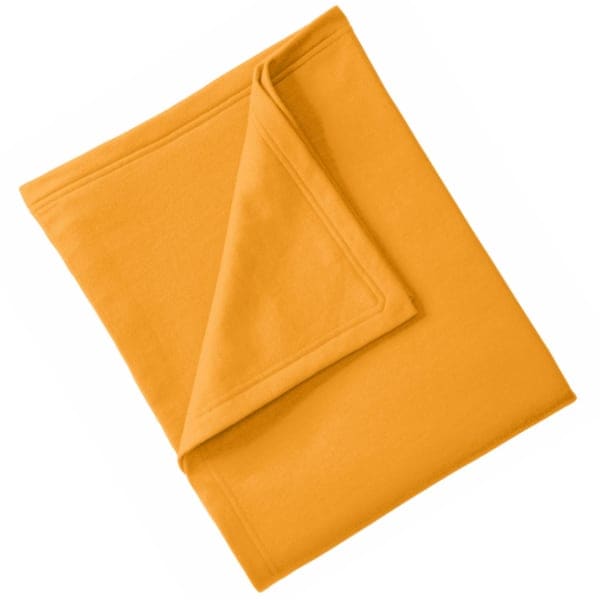 Sweatshirt Blankets
If your recipients love wearing cozy sweatshirts, they'll also love wrapping up in a cozy embroidered fleece blanket made from sweatshirt material, with a soft, pill-resistant finish. Available in 50" by 60" dimensions, you can also score the oversized, 65" by 85" version.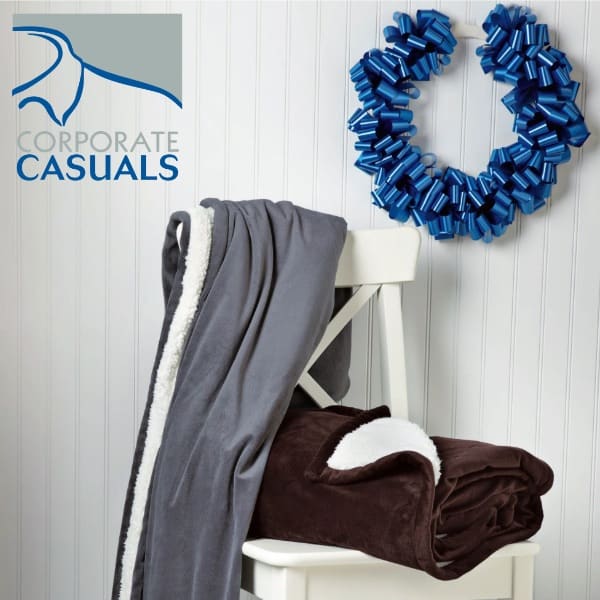 Mountain Lodge Blankets
These luxurious blankets have a cozy fleece face that reverses to sherpa. Perfect for milestone or executive gifts, these blankets bring style and warmth to any home.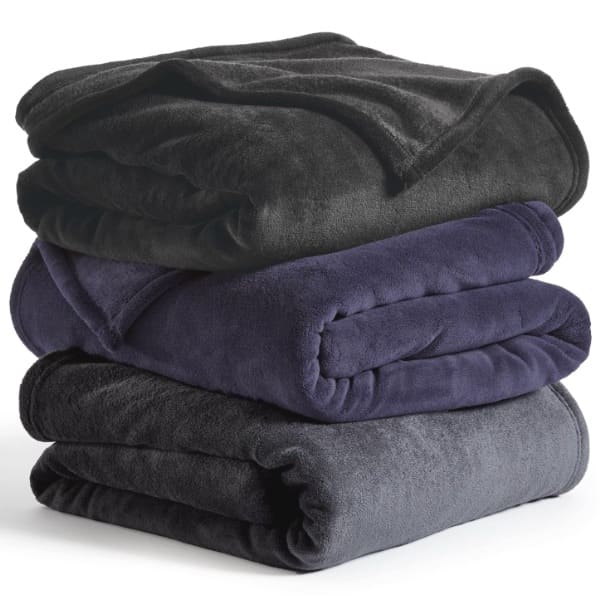 Plush Blankets
These ultra-soft, ultra-plush, velvety blankets are so indulgent that whoever you give them to will use them every day. Choose these when you want to make an amazing brand impression.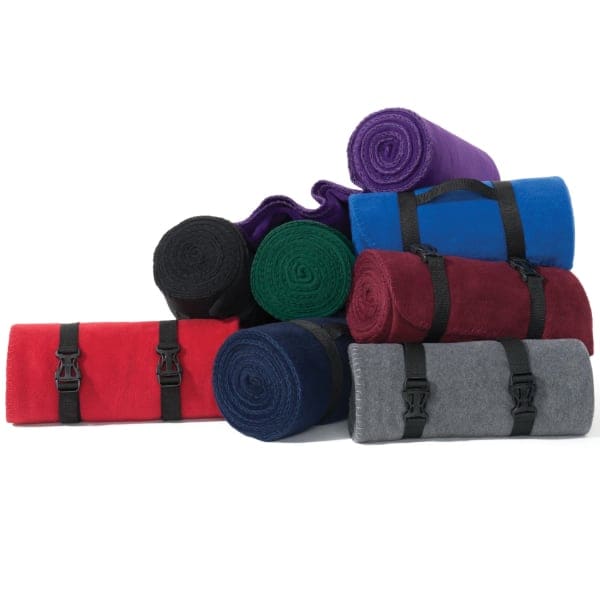 Blankets With a Strap
The easy-to-carry strap makes this portable value blanket perfect for any event. The soft material is sturdily constructed with a blanket stitch hem to guard against fraying, ensuring a longer life and more brand impressions.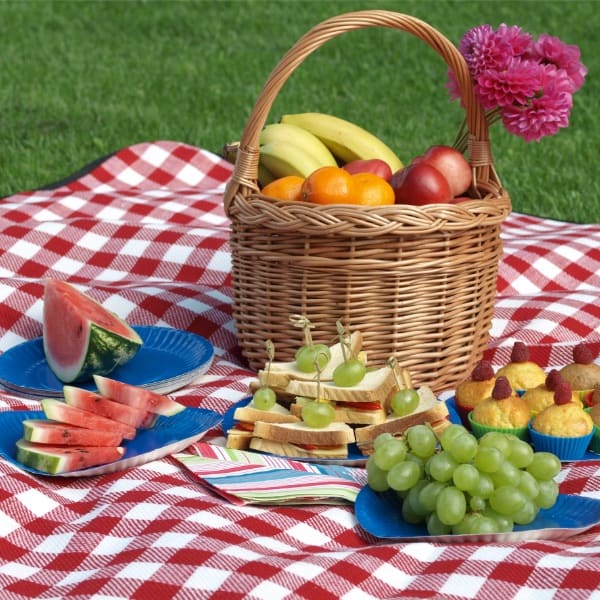 Picnic Blankets
Perfect for people who love the outdoors, picnics and camping, our picnic blankets have a water-resistant woven backing and a soft fleece face. You can use it as a comfortable seating pad, or unzipped and laid out as a picnic blanket. This blanket style easily zips around itself for easy folding and has an over-the-shoulder length carrying strap. Plus, your logo will get seen every time this blanket gets used.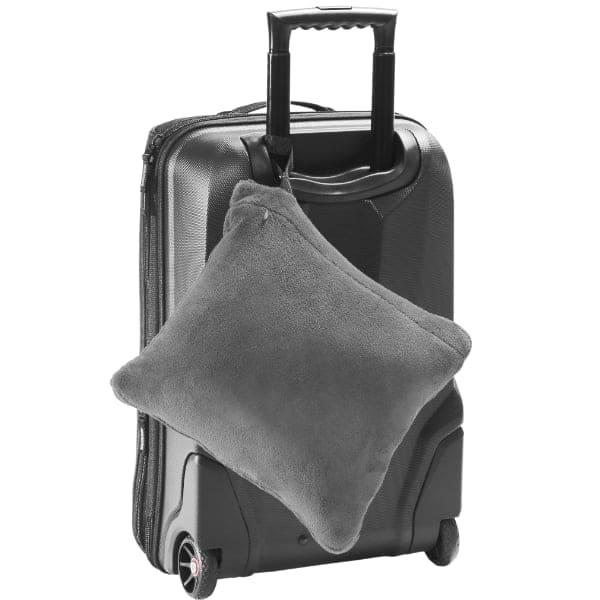 Travel Blankets
Custom fleece blankets are compact and lightweight so that you can easily pop them in the car and tote them along to picnics, tailgates and other outdoor activities. They're also great to keep in the car as an emergency blanket. A handy attached elastic band secures the rolled-up blanket.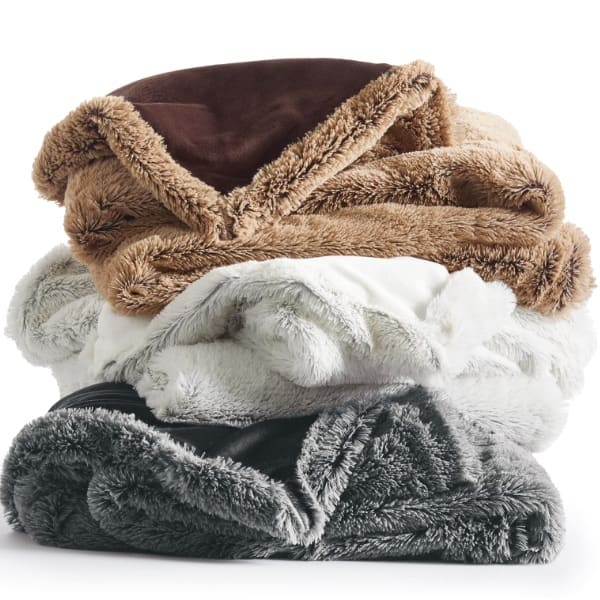 Faux Fur Blankets
These blankets "with presence" are the perfect cozy decor items, to add sophistication or ruggedness to any room, as they drape over the back of a chair or pile at the end of a bed. Our tactile styles combine comfort and elegance, with an ultra-rich soft fabrication that's sure to be a treasured gift that's used all year-round.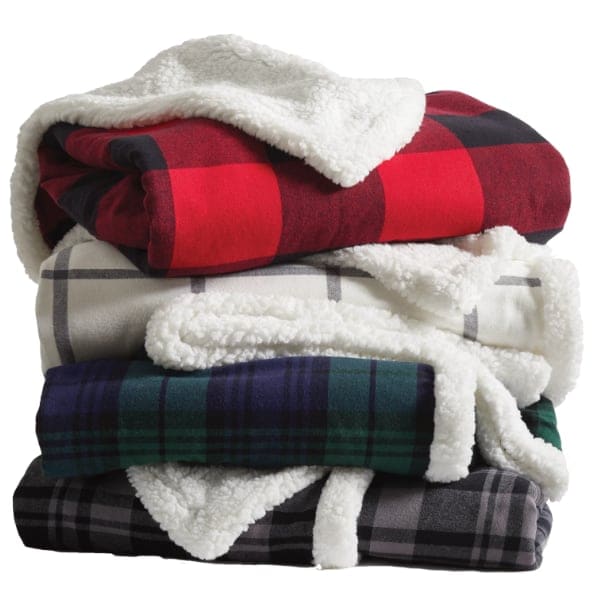 Sherpa Blankets
Our comfy, but lightweight, Sherpa blankets are ultra-warm, and can be used at home or taken on the road.
How Can You Use Custom Embroidered Blankets?
Guess what else we love about embroidered throw blankets? They're a great unisex gift or item to sell. You don't have to deal with the guesswork or hassle of buying different sizes for different people. In fact, we like to say that embroidered blankets are one-size-fits-all.
Plus, custom blankets offer you a lot of space for your branding or message for a high-visibility impression. Blankets offer lots of options for customization, and they come in lots of sizes, colors, and jacquard and plaid patterns so you can find one that fits your brand. Once you've selected your blankets, we'll imprint them with your brand name or logo.
Three top ways people use promotional blankets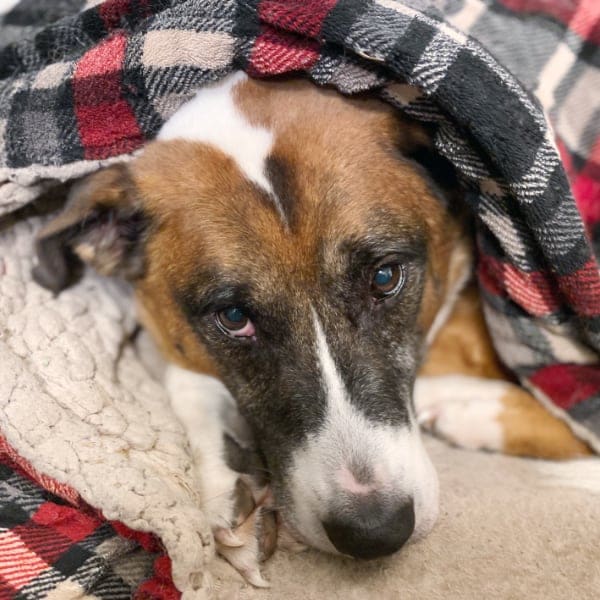 Year-round portable throws
Our clients gift logoed blankets that their employees, pets, customers and prospects love and use all round: to cozy up at home, to use at a springtime picnic or the beach, evening barbecues, a tailgating event and so much more. (Your recipients' pets might even get wrapped up in your blanket.) Your brand will get seen over and over.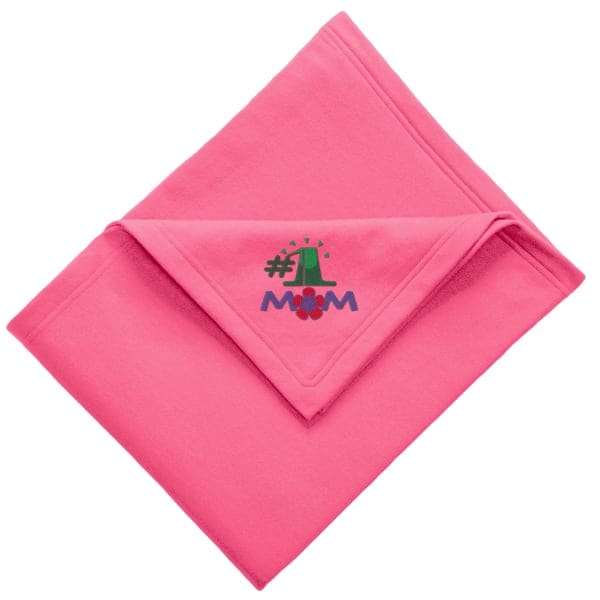 Decorative blankets for special occasions
Personalized fleece blankets are great for company milestones, housewarming gifts, weddings, anniversaries, baby showers and any special occasion like mothers day. Your giftees will treasure the gifts for years. These blankets are usually smaller than regular blankets, so they're placed on the back of the couch or the end of the bed.
Blankets as Unique as Your Brand
At Corporate Casuals, we're big believers in one-size-doesn't-fit-all, so we offer an unmatched selection of custom embroidered blankets so you can find exactly what you need. Once you choose a style you love, you can easily design a personalized blanket in our online Design Studio. Or, you can upload your business or team logo and we can turn it into a stitched logo for a small setup fee. Our experts hand-picked these unique blanket styles for their functionality, retail appeal and the fact that they embroider well. That means your employees, clients, prospects or guests will use these custom embroidered blankets at every opportunity, getting you thousands of brand impressions every single season.
Copious Colors & Patterns
When our customers are looking for the perfect embroidered blanket to represent their brand, color is one of the first and most important aspects. We have many core and neutral colors, like white, black, gray and fawn, and even brights like vine green, rich red and snorkel blue, to match any brand, organization, resort, school, team or event. We also offer jacquard and plaid patterns so you can have your brand color and a little eye-catching contrast too. We also have blankets with a core color on one side, and black or white on the reverse side.
Full of Fabrications
There are several fabrics to choose from, too, including sherpa, faux fur and polyester fleece:
Sherpa

Named after the Sherpa people in Nepal, is a super-soft, warm and fluffy fabric that resembles wool or sheepskin. Often used in blankets and jackets, Sherpa is usually made from pure cotton, polyester, or a blend of cotton and synthetic fabric.

Polyester fleece

Fleece is inexpensive, lightweight, warm and hypoallergenic. Fleece is a synthetic material made from polyester, and is heavier than cotton. However, it allows moisture to evaporate, while keeping humidity out, to keep whoever's wrapped up in the blanket comfortable.
Fun Facts About Blankets
These are a few fun facts about an item you use every single day, but probably take for granted.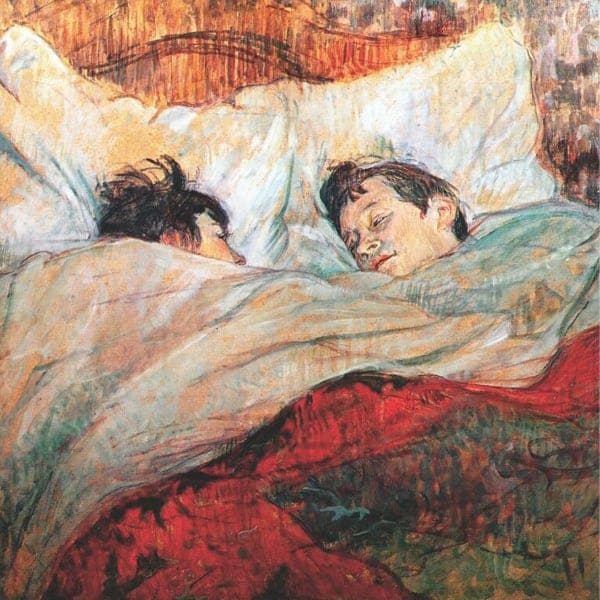 Thank you, Thomas Blanquette!
We get the name blanket from 14th-century Flemish weaver Thomas Blanquette (see blanket in his name?), who lived in Bristol, England. The weaver pioneered a heavily napped woolen weave, known for its warmth and fire-resistant properties. The great bard Williams Shakespeare is the first person to use the word "blanket" as a verb. In the 1608 play "King Lear," the character Edgar says, " "My face ile grime with filth, Blanket my loynes, else all my haire with knots." By the end of Queen Elizabeth's reign, blanket making had become a thriving industry, with Yorkshire, England its locus.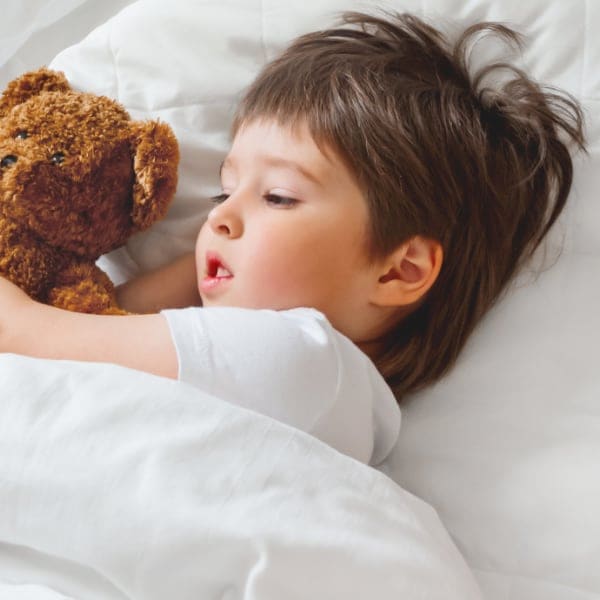 This Is Why We All Love Blankets
Research shows that many people get attached to blankets because we view them as "part of ourselves" or symbolize a time when we felt happy, safe and secure. Even as adults, blankets are part of our routine to build a consistent sleeping ritual so we get adequate rest.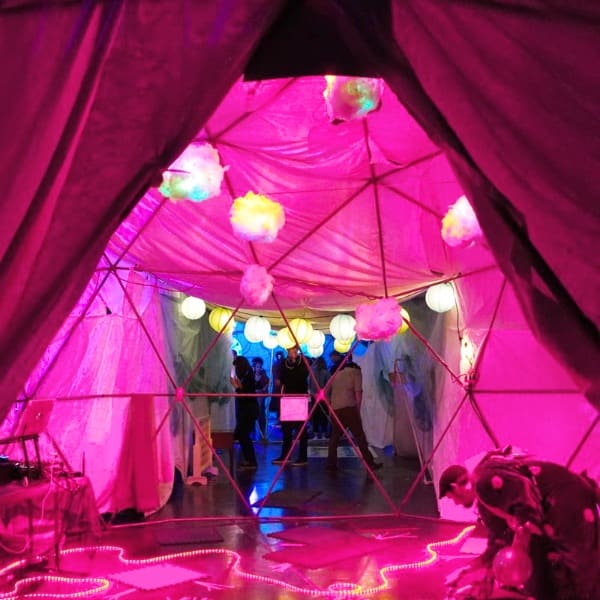 A Big Blanket Fort
Murderboat Productions and Rumpl built the largest blanket fort on record—a formidable 6,736 feet, 136 inches—in Portland, OR, on December 9, 2018.
Your Most Burning Questions About Custom Embroidered Blankets, Answered
Now that you've selected the right custom blanket style for your employees, clients, team members, event attendees, guests or fans, you probably have questions about how we get your logo or message onto these powerful promo items as eye-catching embroidery. Here are the top things our customer service reps hear about how we stitch your logo on your custom blanket.
Q. I've never bought embroidered blankets before. I only have a small image of my logo. Will that work?
Yes! It's so easy you'll want to do it again and again! All you need to do is upload it into our Design Center, and we'll take it from there. Our embroidery specialists have converted more than 100,000 corporate logos into stitch-ready files, so you can be confident that your custom blankets will be an excellent representation of your brand, school or team. If you have any preferences on the logo size, colors or location on the embroidered blanket, just add them in the order notes.
Q. So you need to "convert" my logo into an embroidery file. What exactly does that mean?
Unlike screen printing when you upload an image or logo for us to embroider on your blankets, we convert it to an embroidery-machine-friendly file so we can stitch it out on our machine. The talented embroidery artists on our Corporate Casuals design team use the most up-to-date digitizing software to develop a stitch file that will result in the crispest, best-looking embroidery.
Q. How do I choose the right thread colors for my logo?
Extra points for a great question! The thread colors you choose for your logo is one of the most important decisions you'll make during your ordering process. Most likely, you're working with specific colors your company has selected to represent your brand. If that's the case, you'll generally have access to your brand's Pantone Matching System (PMS) colors. We can easily match our embroidery thread colors to your brand's colors at no charge.
Q. I might not want my logo on the towel or robe. I might just want some block text embroidered on it. Is that possible?
Yes, absolutely. Simply visit our online Design Studio and create artwork using text only. You can choose from different block fonts, along with other fancy and script fonts. There's no setup fee or conversion process required for any embroidered logos that you create in our Design Studio.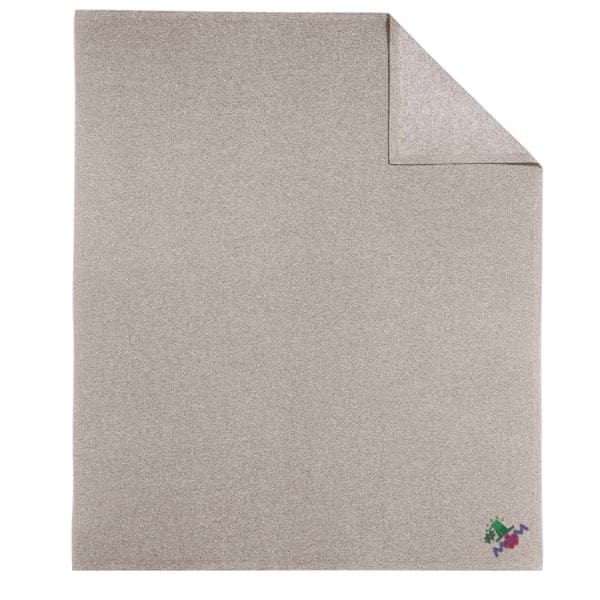 Embroidery Locations on Your Custom Blankets
The default location for an embroidered logo on a blanket is the bottom lower right-hand corner at a 45 degree angle. You can special request an alternate placement on the bottom center or bottom left-hand corner.